heated bird baths…well worth the effort!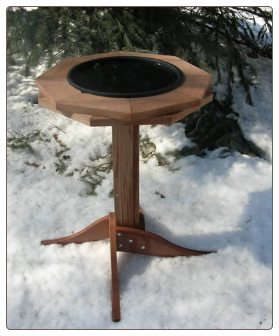 Frigid winters can be a tough time for wildlife…survival of the fittest is nature's rule.
Not only do natural food sources dwindle, but shallow pools and ponds tend to freeze, leaving birds and other wildlife without a consistent water source. Some folks believe birds can just east snow to get water, and in part that's true. But it takes them a tremendous amount of energy to actually convert the snow to water. Energy that could be better spent on staying warm. Birds, like other beings, obtain energy from calories, so this process ends up being a terrible waste of precious calories for wild birds' metabolisms.
Offering heated bird baths will encourage some species to over-winter in your yard and immediate area. Bluebirds especially, will stick around if heated bath water is readily available. Ground baths are also a great idea, because birds' naturally bathe at ground level. These heated bird baths can also be quite enticing for other wildlife too.
Innovative birdbath heaters will allow you to convert your favorite bath into a heated one. New materials that are safe for all types of birdbaths make it simple to do so. Even resin, or plastic baths can utilize these heaters, there are heated mats, resin-cased heaters and the very cool Heated Rock.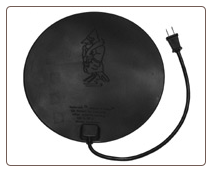 This winter, consider adding heated bird baths to your landscape, or purchasing a bath heater for your existing birdbath. You'll help feathered friends thrive and flourish during frigid temperatures, plus catch some quality bird-watching time!