Green Ones…The New Wooden Birdhouse Kits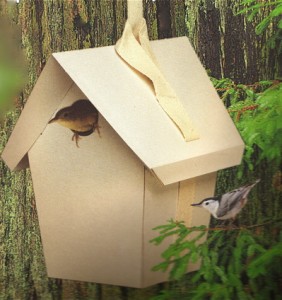 This is the Totally Green Birdhouse kit and it's made from 100% recycled paper, that has been laminated into a strong board!
Like traditional wooden birdhouse kits, it attracts wrens, tufted titmice, chickadees and nuthatches. The airy and innovative weatherproof design is totally biodegradable after the nesting season.
It's fun to assemble, by folding two die-cut pieces of board that fit together ingeniously. Then kids and/or playful adults get to paint and decorate the bird house any way they want. You can be creative, and provide wild birds a much needed nesting site, and shelter at the same time.