Glass Butterfly Feeders and More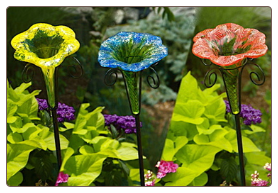 Innovative by design, with beauty to compliment any environment, these glass butterfly feeders work perfectly in any garden setting. With their rich hues, the large hand-blown glass  flowers make for a fun and interesting focal point. Add versatility to this…and they become more than just feeders.
In our yard a red one sits just below a leaf mister, and as the water collects in the flower, it  creates the perfect bath –  not only for butterflies, but birds too! The unique shape allows for feeding nectar or fruit to butterflies as well. Over-ripened fruit like bananas, melon, peaches, pears and more can easily be placed in the flower. Add nectar to this glass flower with or without the use of a sponge.
When attracting butterflies, several factors come into play. Landscape and the use of flowers is an important one. Nectar producing plants, and host plants will yield the best results when used in conjunction with one another.
A water source is very helpful too, but butterflies do not use birdbaths. Puddlers are more suited for attracting these "flying flow
ers". Puddlers are just what the name implies, pools of water, or puddles. They can range from small to large, plastic or stoneware, raised or at ground level. This puddler is handcrafted of weatherproof stoneware, so it stays in the garden year-round. It gives butterflies a place to dry in the sun (after bathing) with its' smooth rock-like surface. Some puddlers may even be used as butterfly feeders, with spaces for offering fruit or nectar.
Butterfly accessories that are versatile and interchangeable are always a sure bet as you can try different things to see what works best for attracting these little guys to your garden.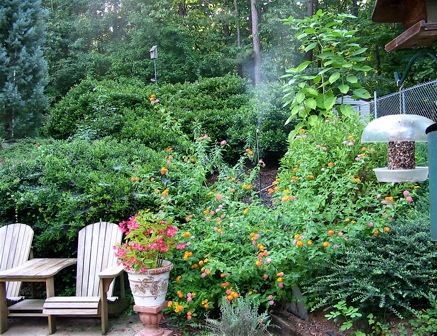 A leaf mister in our yard sits in front of a glass butterfly feeder. Unfortunately from this angle, the feeder is hidden by shrubs. But it's the perfect example of using a butterfly feeder as a bath instead.