Give Thanks-Give Warmth- Heated Bird Baths Rule!
Warm & Happy Thanksgiving Wishes!
Gift idea # 30: Give warmth
Okay, we skipped a few days getting ready for the holidaze! It can be a crazy, stressful time, running and doing, and going, and fulfilling obligations. With Thanksgiving upon us, it's a great time to chill with friends, with family, with nature. Look around and breathe, what are you thankful for?
As corny as it sounds, and aside from the usual answer of friends and family, we're thankful for the habitat in our yard, the characters it hosts, and how it's grown over the years… simply because it offers an escape from the everyday chaos of life. We're really thankful for our awesome customers, especially the ones who return again and again! I doubt companies selling electronics are lucky enough to get the same breed of folks, those who are so appreciative of nature.
Whenever there's an opportunity to sit, be still and just watch the birds, or a butterfly around lantana – there's a calming effect that's pretty indescribable. Sometimes ya just have to wonder… am I getting old? Well, with age comes wisdom (hopefully) so receiving joy from something as simple as nature can be a blessing in itself. Sadly, many are blind to it these days.
During frigid winter months, the best hot spot for watching feathered friends has got be heated bird baths (no pun intended). More so than any kind of feeders or birdhouses, fresh water attracts more species and greater numbers for ultimate viewing from your home.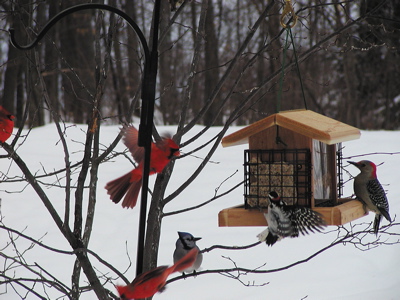 Can't they just eat snow? Sure, birds do have the capacity to convert the fluff to liquid, but it costs them precious calories in the process. Since calories equal energy, it's a resource that can cost overnight heat loss. Some birds will feed from sun-up through late afternoon, continuous eating just to consume enough calories for the next freezing night. Essentially, those calories are wasted when digesting snow for water. So offer up a heated bath to help resident birds thrive and bring some new visitors to your place! No need for a whole new set-up, just add a heater, most are safe for all birdbath types these days!
And because Thanksgiving is here, we say Let Giving Take Flight to start the holiday season! For useful and creatively fun ideas for any nature-lover on your list, we'll offer suggestions to dazzle them and their feathered friends alike! And what would make us an authority? Backyard birding freaks for 30 years 🙂