Get Major Curb Appeal with a Dovecote Birdhouse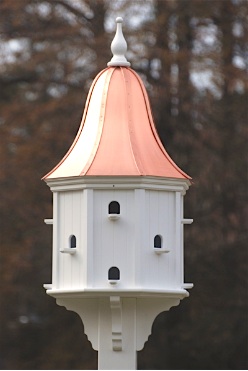 Gift idea #37 Make it palatial
It's got to be the grandaddy of all houses… as far as aesthetics anyway! Standing almost five feet tall and two feet wide, this dovecote birdhouse is a most impressive site when situated in the landscape. It takes some room, we refer to it as "estate size" because its grandeur commands more than just any old spot.
Martins may take to it if a scout finds its surroundings suitable with plenty of open area and a good distance from trees. Having a pond, lake or nearby stream is also a plus for them. No doubt somebody will be roosting during cold nights prior to spring nesting season, and really, could you blame them? If I were a bird, I'd not only know who to poop on, I'd claim these sweet digs for my own!
The dovecotes also come with a stunning aged patina roof, but the real beauty in these homes is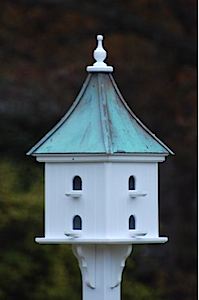 the meticulous construction using vinyl/PVC. You see there's no wood at all, nothing to rot or deteriorate over time. The material won't mildew either, and it never requires painting, just a damp cloth with some soap to remove environmental build-up. Heck, you can even take the garden hose to these birdhouses and feeders for a thorough cleaning should the desire strike!
So maybe this one's a little too big for the average lot? No worries, they come incrementally sized down to a six-or eight-inch diameter, perfect for chickadees, titmice, bluebirds and other friendly fliers. Your resident birds would be happy to call this residence home and the recipient will absolutely be wowed!
Save 20% on extreme sizes, 10% on all others through Sunday, November 30th
Use promo code MC10 at checkout