Get Copper Roof Birdhouses on Sale through Monday
You've had your eye on one for some time and know they'd love it, but a bit uncomfortable with the price tag. Now's a great time to take the leap – we'll guarantee you'll be quite pleased! With a proven track record over the years, our copper roof birdhouses and feeders are simply stunning with superb quality. Bird-approved, these fine structures will grace the landscape with timeless elegance for many years to come.
And we know this from customer feedback and testimonials, plus having 110% confidence in our product! Never replace this birdhouse, never paint it, never fix it! Vinyl PVC will not split, mildew, rot or warp (that's part of the beauty). Solid copper roof uses brass rivets, even the finial is a composite resin to ensure long-lasting beauty with no deterioration.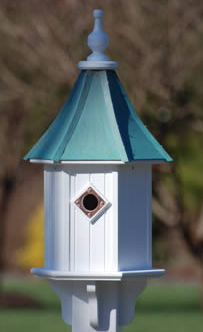 Stately in size and stature, even the smaller range commands attention with their clean architectural design. Basically customizable, each copper roof bird house comes with perches or copper portals (predator guards) and classic or verde roof finish. Vinyl decorative brackets are attached on most styles. The mounting bracket which is also vinyl/PVC, slides right on a 4×4 post. How easy is that?
The best part… they're on sale and ship for zip! Save 10% on any size (20% on estate sizes) through Monday Dec.1 at midnight EST. Use promo code MC10 at checkout to nab these great savings and to give a most impressive holiday gift this year!