fun squirrel feeders go recycled and large capacity too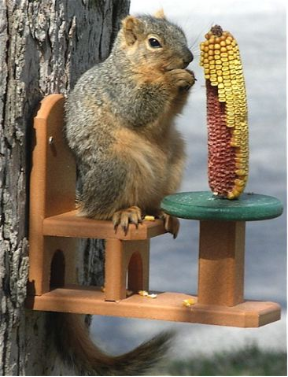 Yes, some of us do feed the squirrels! Some just for fun and the entertainment aspect, others feed them as a deterrent from bird feeders, keeping them occupied. And some, well they just despise the little critters. After all they are a member of the rodent family, but for some reason, the bushy tail seems to make them okay?
The Table & Chair Feeder is a classic that's been around forever, and they last for years until the wood starts to crack and rot from exposure to the elements. Now this fun feeder has gone green, as in recycled plastic. It won't crack, fade, split or warp… guaranteed! The best thing about recycled plastic anything, is that it helps keeps these plastics out of landfills. Some products come with stickers telling you how many milk jugs, or containers were used to manufacture the item, which is pretty cool. These fun squirrel feeders are made to last, chew-proof and handsome too, the little critters will love them. As a special treat during frigid weather, we smear peanut butter on the corn cobs… they go crazy for it! The high fat & protein content provides the extra calories needed for energy to stay warm, and it tastes good too.
But if one single corn cob isn't enough for your pack, the large capacity stalk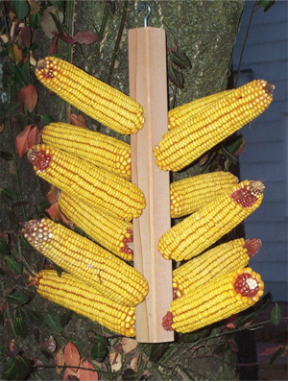 feeder might be in order. These are perfect for corn cobs (and fruit too in summer). Attract orioles, cat birds, woodpeckers and other migratory friends with orange slices, apples or grapes during warm weather. These squirrel feeders hold lots of corn (12 ears), but if your furry friend, little pigs are like ours… no amount of food ever seems to be enough!
Hey… and thanks for feeding the squirrels 🙂