first sprite spotted today at the window hummingbird feeder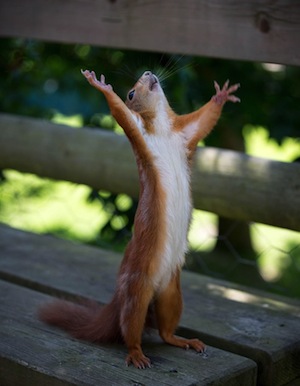 I think he's celebrating, hallelujah… spring has sprung!
The very first hummingbird was spotted today, bringing sheer delight in knowing they're back. For the next six to seven months, sights and sounds around the yard will be a-brimming with silly antics and buzzing activity from these favorite migratory birds. Their very own Pop's Hummingbird Swing was installed last season and it proved to be a huge hit, so we'll likely add another this year.
Although feeders are out, there aren't any flowers yet from which to draw nectar, and that part's kinda sad. Nothing's been done in the yard as far as clean-up and planting colorful annuals for the season.
Perennials have not started blooming except for the very early – and long gone crocus and jonquils. Some white candy tuft clumps perch upright in a barren looking landscape, while trees are just sprouting tender green foliage. Leaf misters (that never made it to storage last year) sit ready to spray, and the popular Hummer Helper nesting material is also ready for action!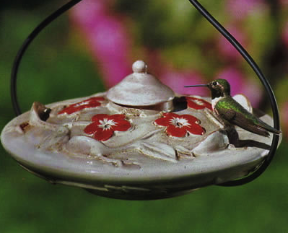 Because this one hangs from a sturdy window bracket, it serves as our window hummingbird feeder, and eyes are peeled when in the kitchen.
So nice having a feeder right at the window again… and one that squirrels won't bother with!