fighting at wild bird feeders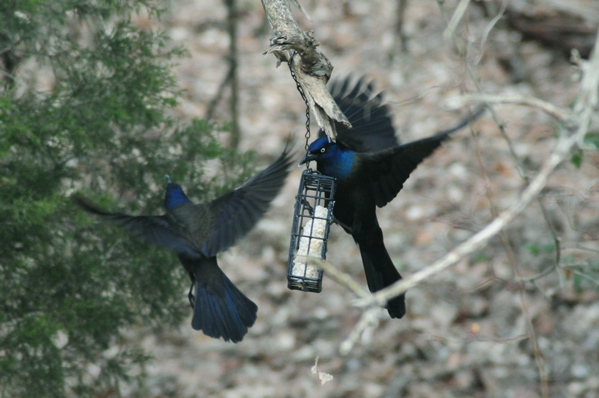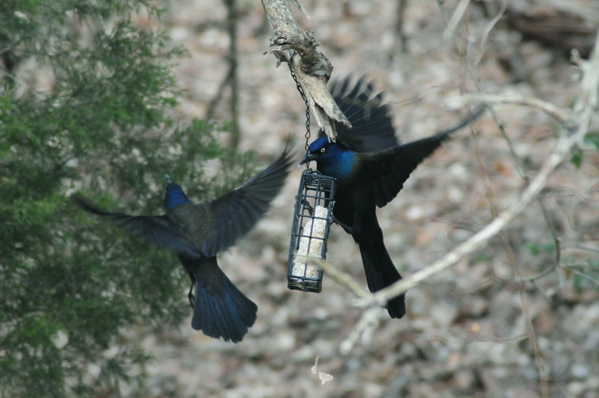 Some feeders are more popular than others, as are some of the bird treats offered to feathered friends. Outrage and feeding frenzies can be expected from some species, while others like Goldfinches, would rather give up & fly away than fight for a spot at at wild bird feeders.
These grackles are doing battle over tempting suet at this feeder. A great photo, their iridescent color is superb. Certainly not one of my favorite birds, but again a cool photo.
They are so darn smart too! If I sit outside on the deck, the Grackles will circle the perimeter of the yard, hide in the canopy and just wait to swoop down on feeders…and at my split-second departure. Upon my return, just as soon as the screen door opens… off they go. They actually sit and watch me, waiting for me to leave so they can raid the wild bird feeders. Their favorites have got to be the live meal worms (meant for the Bluebirds), Suet and Woodpecker Mix. I'll admit it is quite the smorgasboard in our yard, and getting the good birds will inevitably attract some not-so-desirable ones too.

Speaking of wild bird feeders, have you ever seen Hilda? She's a cool stoneware feeder that the birds just love. Filled with sunflower seed, she attracts all kinds, and the innovative design deters larger birds with its small perch. In several fun colors, she's definitely a very wild bird feeder!