exquisite decorative bird houses to last a lifetime!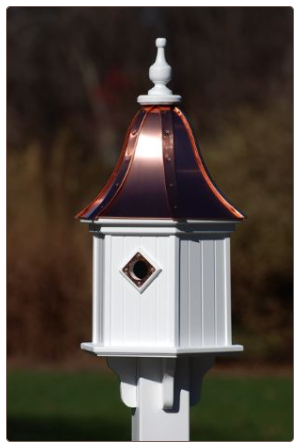 Let's face it, in any market you'll find junk and you'll find quality… doesn't matter what it is, from products to services… there's good and not so good. Many bird houses out there claim to be decorative, claim to be quality, and even claim to be functional – when they're not!
Most times we get what we pay for. So if you purchase a $10 bird house, obviously you wouldn't expect it to be around for too many seasons. These copper roof decorative bird houses are guaranteed to last a lifetime! They're hand crafted in the USA, with meticulous construction and stunning quality.
PVC/Vinyl is the main material of the house itself, but you'd never know it. Gone are the slick, plastic-looking materials of yesterday. This vinyl looks and even feels like wood! Absolutely gorgeous in any landscape, these decorative bird houses are available from small to estate sizes. The cooper roof is an option too; in a beautiful, natural patina finish, or a bright, lacquered copper that stays bright and shiny for several years. It will eventually weather, but if desired, polish may be applied to keep the shine.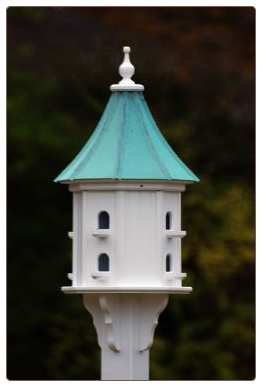 The larger sizes are even complete with the decorative brackets shown. The vinyl collar simply slips over any standard 4×4 post.
In single and multiple compartments, there's a decorative birdhouse to suit many tastes, and several species of wild birds too. The tops lift off for easy cleanout, and styles come with copper portals (predator guards) or perches. If you're looking for a truly beautiful birdhouse, with no maintenance, that will last a lifetime… theses copper vinyls are it!