Dovecote Birdhouse for a Shiny, Top-Notch Gift!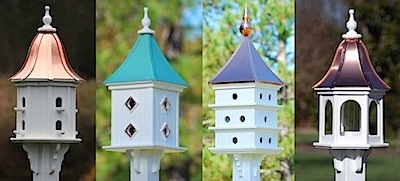 Looking for a really special gift, one that's going to last a lifetime? For any gardener or nature lover on your list, a dovecote birdhouse in the landscape is absolutely dreamy!
Aside from the curb appeal, they help birds thrive through frigid winter weather by offering cozy roosting spots. There's feeders too, in gazebo and large capacity styles. One will definitely see more winged activity at a feeder, but said feeder must be maintained; filled and cleaned regularly.
When it comes to feeding seed, we like using sunflower hearts or a no-waste mix. These leave far less grou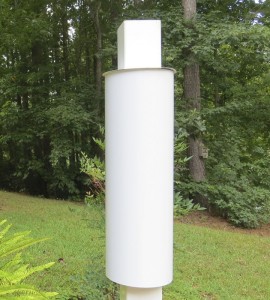 nd mess below feeders, and anything that does fall to the ground is quickly consumed because it's the good stuff! Say feeders are great but there's squirrels mucking about in the yard? No worries there!
While most baffles are black or green, cone shape and possibly not too slick looking… here's a new one especially for the vinyl dovecote houses and feeders! White, slender and unobtrusive, pesky squirrels and even raccoons are not getting passed this one! Made for a true 4×4 post, they work beautifully with the vinyl post covers.
Why would anyone use a baffle on a birdhouse? Predators! Help keep eggs and nestlings safe from any critter who might shimmy on up the post as eggs are quite a tasty treat for many furry ones! Our bluebird houses always have baffles installed to protect nests.
Wild birds actually tell us about the environment. It is through Citizen Science groups like Cornell and Audubon, that changing bird ranges are tracked and documented. The cumulative information submitted by ordinary folks like you and me give scientists a true picture of the ever-changing world around us. Not just hear-say, but actual statistics that tell the real story!
Should you have any doubts on this, just take a look at the scenario below, a quick video produced by Defenders of Wildlife a few years back. And should you have any doubt about giving a dovecote birdhouse this holiday season – rest assured it will be the most awesome gift ever… and they ship for free too!