dovecote birdhouse dream home!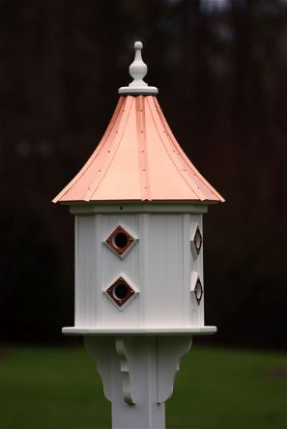 dove.cote (also dove.cot)
noun: a shelter with nest holes for domesticated pigeons.
Pigeons? That's what the dictionary says, but you can bet these dream homes are more than just shelters, and not for pigeons! Chickadees, Titmice, Wrens, Nuthatches and other small cavity-nesting songbirds would be mighty pleased to call any one of the eight compartments their home. Imagine nesting and raising your young in digs like this!
And as for the human host, this fine dovecote birdhouse will grace the landscape with classic and simple elegance for many years to come. Meticulous construction ensures it!
A friend once mentioned these are "sparrow slums" as non-native House Sparrows will nest anywhere. Many folks despise them, especially Bluebird or Martin landlords, because House (or English) Sparrows destroy and decimate our native Bluebirds and Purple Martins. Mostly through competition for nest sites and territory, their behavior is brutally mean to adults, eggs, nestlings, and fledgelings. English House Sparrows? That's probably where the "pigeons" come from too?
It's easy to recognize a Sparrow's nest if you'd prefer them to stay away from your dovecote birdhouses. Trash and a tunnel – yes a tunneled nest filled with a variety of grasses, straw, paper, string, and whatever else they can scavenge best describes their structure. Simply remove the nest to keep them from breeding, and repeat if they return to try again.
On the flip side, some folks have even inquired on how to keep all birds out of their new house? The structures are so pretty they don't want birds in them at all! Bummer 🙁  Because of the vinyl construction, these houses stay looking brand new for years… and years! Simply wipe clean with a damp cloth, they'll never need painting, and are guaranteed not to warp, split, crack, or fade – ever!