Cool Hummingbird Feeders Sized Right for Migration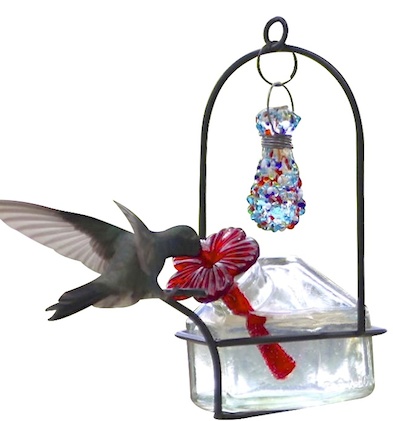 Once again the tiny sprites are gearing up for their southern trek to winter breeding grounds. Their task at hand: fatten up for the long journey.
If it seems the tiny birds have had big attitudes guarding their feeders, just wait… you ain't seen nothing yet if it happens to be your first season hosting the winged wonders!
Crazy, absolutely crazy behavior fussing and fighting over one, two even three feeders at a time- and rightly so. This time of year, survival depends on being plump and fueled up for migration to central and South America.
An additional nectar source, like this cool hummingbird feeder may very well help to alleviate some of the territorial behavior. If your feeder is in back, place another in front, or at least out of view from the original feeder.
Should your gang actually get along well enough to sip side-by-side, the new Hum-Bar is the coolest! We can't wait to try this on for size.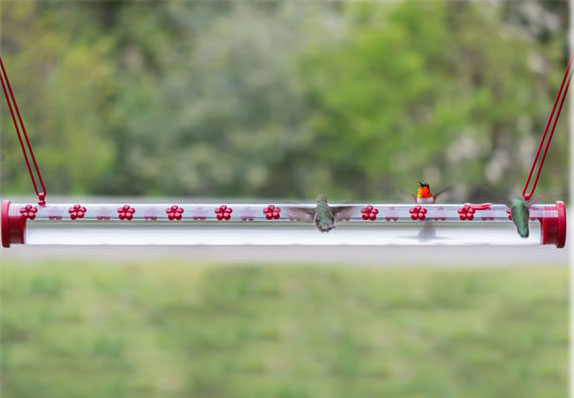 A whole new way to feed hummingbirds, it's orientation is horizontal – imagine that? The two-foot long tube features 22 red flower feeding ports. Nectar is distributed evenly, without adding so much that some goes to waste. The feeder accommodates an ant moat if necessary and hangs from two sturdy adjustable cords. Flexible hanging options allows the cords to be gathered at top so the feeder may also hang from a single hook. It's not too late in the season to think about additional feeders because the sprites will be back next spring… and they remember your yard and feeders. Site fidelity is just one more cool behavior hummingbirds practice.
This cool hummingbird feeder's design has been patented and hummer-approved, check out the action below!