butterfly feeders, puddlers, and misters are fantastic last minute gifts!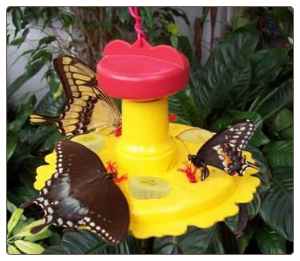 Omg, the last minute rush to find a perfect gift: imagine one that actually gets used and enjoyed, by the recipient and wildlife too?… it's not too late! FedEx is including Saturday as a weekday delivery this year! We're getting orders out the next day and most items are in stock. That's a full weeks' transit time if ordered tomorrow! Hurry, there's still time to find fantastic butterfly feeders and more with no expedited shipping charges.
This butterfly feeder includes a package of nectar, wicks for real feeding, and small spikes to offer fruit… that's why it works 🙂 It features both pole-mount and hanging options too.
The Butterfly Puddlers have been extremely popular this year, we've sold out twice and have more on the way! Hand crafted in weatherproof stoneware
and recycled glass, they may be used as butterfly feeders offering over-ripe fruit, or as baths- using sand and salts. A lovely garden accent to boot, this item will bring many seasons of use.
Another popular type of butterfly feeder is the staked, large glass flower. They may be used as a bath or feeder, but the trick to getting butterflies to drink nectar from this type of open feeder is to add a piece sponge to the flower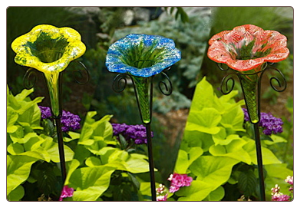 (preferably a new one). Soaking up the nectar, the sponge acts as a wick that imitates nature and the way butterflies actually draw nectar from flowers.  Still available, but in yellow only.
And lastly, if you really want to see some butterfly action this summer, leaf misters work like a charm! The activity in a garden around a leaf mister in summer is truly amazing. Stake one of these in the ground around some lantana, milkweed, or abelia, and enjoy the show. Hummingbirds and songbirds love them too.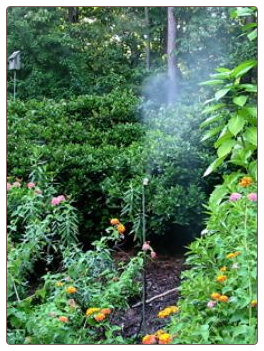 Simple to install, there are several options for use. We like the ground stake option, as the mister placement may be easily changed every few days. This avoids saturation in any given spot. Other birds will leaf bathe, hummingbirds dart in and out of the mist, while butterflies "flut" around… it's very cool! The misters create a "spa-like" atmosphere that you could sit and watch for hours.
So there it is, great last minute gifts to entice these winged wonders… all in stock for immediate shipping!
And if I don't make it back to the blog before then… Wishing you & yours a most wonderful holiday~