Broken Legs can not mend-but broken hearts will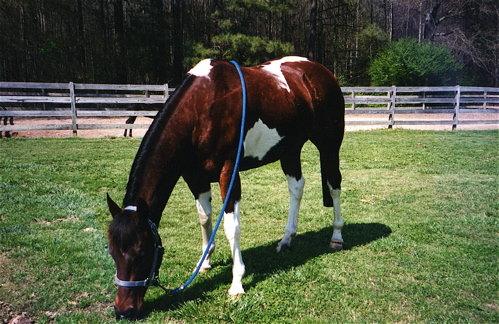 A most somber day, yesterday I had the saddest situation, of having to put my horse and (best friend) down for her final resting place. A broken leg can not be mended, but I hope in time that broken hearts do mend.
At 23 years of age, she never acted or looked like her years might have told. With personality plus, Sweets was the best mare in the world! She was the stables' guest horse when someone needed a mount for a friend to ride. She would lead, follow, go through water, fast, slow… whatever you wanted. She could be a baby-sitter or give you an exhilarating ride to raise adrenaline.
For 17 years we had a most special bond, I could walk in the stables and not even say a word… but she knew I was there and would call for me. I'm so very sad, and today I'm scheduled to work half-day at the stables. It will be eery and uncomfortable-walking by her empty stall. There are others I cared for and looked after, Woody the big warm blood, who looks older than his 26 years due to cushing's disease. And Aqui, the abandoned thoroughbred, who the owner let stay (in a stall) to live out his life.
I'm also the "bird lady" at the stables, and make the hummingbird nectar, clean, and fill the feeders every few days, as well as fill the other window bird feeders on the break room windows. The cats… always sneaking them wet food against the owner's wishes. They're supposed to be mousers. Now it feels like my tie to the stables has been severed, but who will take care of all this stuff now? In a few hours I'll head over and hope for the best…no mental breakdown.
Rest in Peace Sweets 🙁