Archive for the 'In Window Bird Feeder' Category
For Earth Day, we chose to feature new and green together. Not quite green in color, the vibrant primary hues make them that much more fun. So what's so great about our new window bird feeders that's worth mentioning?
They help keep plastics out of landfills. Back in the day, when our very first poly-lumber (an industry term for recycled plastic) feeders arrived, they had stickers on the roof saying 33 milk jugs were used to make that item. I think the sticker's still on one of the walls somewhere? Although one feeder may not have much of an impact, when thousands are purchased by consumers… it most certainly makes a difference.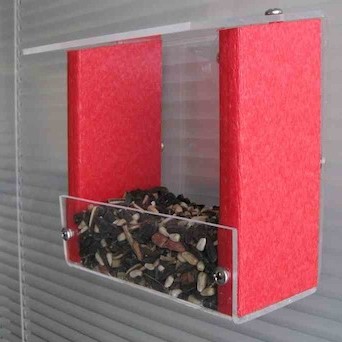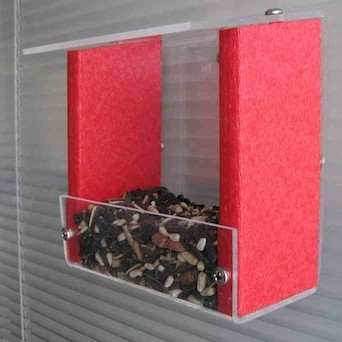 You can attract wild birds in the smallest of spaces with window feeders. The huge yard and landscaping isn't required. On the balcony or deck, birds will visit your feeders. A shallow pan of fresh water is a good idea, and only helps further entice them.
Recycled plastic (glass and ceramic too) are actually healthier for birds! The non-porous surface thwarts bacteria and mold from settling into crevices. Don't get us wrong… wood is good, but the slick, smooth surface is much easier to clean and maintain as it resists bacteria that's harmful to birds.
Poly-lumber items are guaranteed by most manufacturers. Color won't fade as it's solid all the way through, no top-coatings to chip away over time. The material is so durable, products are guaranteed to never peel, warp, fade, rot, split or crack – pretty impressive really!
Offer birds a variety of treats throughout the year and see who visits? The open dish design of these feeders will not limit you to offering birdseed. Suet and crumbles, shelled peanuts, fruit, jelly placed in a small cup (for orioles, cat birds and woodpeckers), and even mealworms will entice a wide variety of visitors. Offer specialty items in summer for migratory birds, and your basic seed and suet in winter for resident friends.
With spring in the air, we spotted a pair of Indigo Buntings yesterday, and Mr. & Mrs. Red-Breasted Grosbeak today!
So there's a few good reasons why we think these window feeders are fab, plus they're bird-tested and bird-approved. To welcome spring and help out Mother Earth, consider a new birdhouse or feeder for your feathered friends… the rewards are well worth the endless hours of entertainment they'll provide.
Happy Earth Day and thanks for feeding the birds!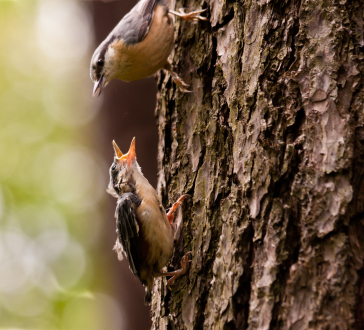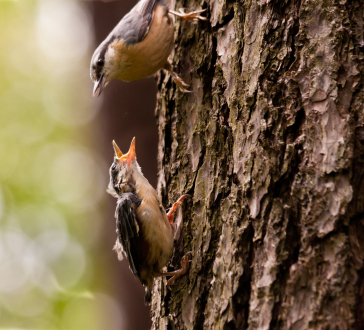 It's not too far of a flight, from the feeders over to the tree bearing the cavity where her babies were raised. Mama nuthatch grabs sunflower hearts quickly feeding her newly fledged babies.
It's been a really dry, really hot summer thus far. Early July temps feel like the end of August and everything is already parched! More so than aesthetics, this brutal weather has a profound effect on wildlife, including resourceful birds.
More so than usual, roadkill has been rampant, likely many young venturing further out of normal range in search of food and water. Even wild birds do what they need to in order to keep babies fat & happy.
In all the years of backyard birding, I've never seen such activity at feeders in the thick of summer (other than nasty common grackles). Natural food sources have been depleted by drought and high temperatures… even the bugs that bug us at dusk are fewer than usual. Gnats and mosquitoes are not as bad, even the pesky fly may have taken a hiatus!
Because of these conditions, adult birds are taking full advantage of backyard feeders… and any kind at that! An adult cardinal was grabbing seed from a platform feeder and passing it along to his baby on the ground below. An adult thrasher was pecking through squirrel mix on the ground to feed her baby in the back along the tree line. This mama nuthatch took about fifteen trips from our window bird feeders over to the familiar tree where eggs were laid and chicks hatched. Scurrying to feed six newly fledged birds, the bird feeders containing sunflower hearts proved to be most welcome.
If you typically feed wild birds, but don't think it's necessary in summer… think again! Lots of babies out there with busy parents in search of food to raise their young. Please feed the birds and always, always offer a fresh water source. As simple as a pan of water, or a saucer from an old garden pot will do the trick just fine.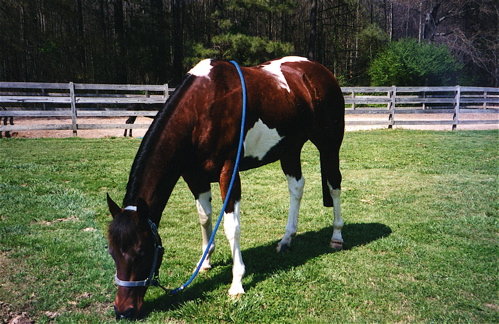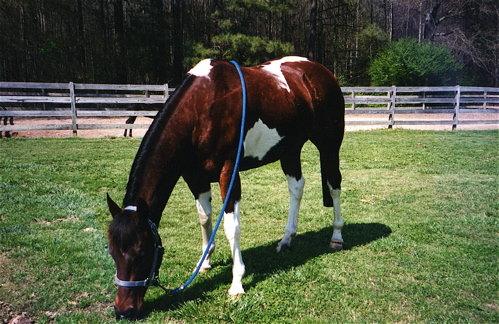 A most somber day, yesterday I had the saddest situation, of having to put my horse and (best friend) down for her final resting place. A broken leg can not be mended, but I hope in time that broken hearts do mend.
At 23 years of age, she never acted or looked like her years might have told. With personality plus, Sweets was the best mare in the world! She was the stables' guest horse when someone needed a mount for a friend to ride. She would lead, follow, go through water, fast, slow… whatever you wanted. She could be a baby-sitter or give you an exhilarating ride to raise adrenaline.
For 17 years we had a most special bond, I could walk in the stables and not even say a word… but she knew I was there and would call for me. I'm so very sad, and today I'm scheduled to work half-day at the stables. It will be eery and uncomfortable-walking by her empty stall. There are others I cared for and looked after, Woody the big warm blood, who looks older than his 26 years due to cushing's disease. And Aqui, the abandoned thoroughbred, who the owner let stay (in a stall) to live out his life.
I'm also the "bird lady" at the stables, and make the hummingbird nectar, clean, and fill the feeders every few days, as well as fill the other window bird feeders on the break room windows. The cats… always sneaking them wet food against the owner's wishes. They're supposed to be mousers. Now it feels like my tie to the stables has been severed, but who will take care of all this stuff now? In a few hours I'll head over and hope for the best…no mental breakdown.
Rest in Peace Sweets 🙁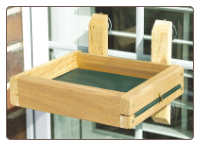 For every type of backyard, and for many particular species there are bird feeders to do the job. Obviously, large capacity feeders are better suited to larger yards with lots of space. But if you have a small yard, or even no yard at all…you can still entice and attract many species of wild birds.
Platforms or tray type feeders are extremely versatile as far as offering various foods. They'll accommodate any birdseed mixes, suet, fruit, peanuts, or even mealworms. This means you can attr

act different species according to seasons. Window bird feeders are available in this tray style too, plus they allow for great close up views of your visitors. Hummingbirds for example, will also visit window bird feeders that are meant to hold nectar. In-Window bird feeders are also a great way to go if space is limited. These fit conveniently in most standard size windows, with the general feeding area right inside your room…talk about close up views!
So even if you're in an apartment with the smallest deck, there are bird accessories to invite feathered friends to your place. A small birdbath will also do wonders for attracting many species, in fact, it's the best single way to bring birds home!

Window feeders are excellent for close up views of feathered friends, but if you have the option, an in window bird feeder is even better! Bringing wild birds right into your home is is exciting, rewarding, and really brings a whole facet to wild bird feeding.
This in window bird feeder allows you to view the feeding birds through a clear panel. It actually  sits inside your home and installs easily with dove-tailed, wooden side panels that slide out to fit most windows from two to three feet wide. Very thick wood side panels provide for great insulation and security. And, for added security, the design of this window feeder allows you to completely close and lock the window with the feeder in place. Filling and cleaning is simple from the comfort of your home. Made of plantation grown mahogany and hand crafted in the USA, it makes an awesome gift for any birding enthusiast or nature lover on your list!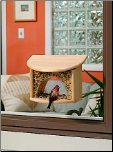 Small Yard? No Yard? No Problem!
Even if your house has the smallest of yards, backyard birding shouldn't be out of the question. Attracting songbirds does not need to be a complicated task requiring huge spaces. Window bird feeders are a great place to start. Once discovered, songbirds will return daily for treats you offer them.
A myriad of these window feeders are available for birdseed, nectar, mealworms, and suet. These are some  favorite foods of Chickadees, Nuthatches, Titmice, Cardinals, Hummingbirds, Orioles, Bluebirds and more. You can even offer fruit and any possible mixture with a window platform-type feeder. Blue Jays and Woodpeckers really go for peanuts on this one. Some window nectar feeders for hummingbirds feature removable lids for offering seed mixes in winter time. In-house window feeders will virtually bring birds right into your home!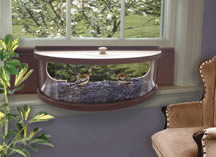 Aside from just attracting birds, window bird feeders offer fabulous views of your feathered friends. A great educational item for children as well, once you start the birding hobby…it's addictive! Entice wild birds to your yard with feeders, houses, and a fresh water source. Small birdbaths will do a phenomenal job at attracting more species of birds to your place too.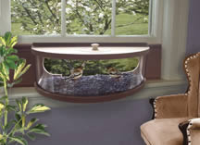 Whether the groundhog sees his shadow or not, you can sit back in the comfort of your living room or den and enjoy the promise of spring through feathered friends. With a platform type in window bird feeder, a whole new dimension to backyard birding is seen.
First, the birds come to you. Instead of heading to the window, or grabbing binoculars, birds head right into your room! One-way mirrors in most window feeders allow you to view birds without disturbing them too.
Second, the platform offers the advantage of variety. You'll be able to attract more species by feeding different foods. Any seed mixes will work, as well as fruit, suet, peanuts, or meal worms. Peanuts and suet are sought during cold winter months as their fat and protein content are high. The extra calories help to keep birds warm.
Third, filling and cleaning in window bird feeders is simple….right from inside your home. Most have trays that lift right out for simple cleaning, and filling, well…you don't even have to drag the seed out to the yard!
Most feeders fit windows from 24″ to 36″ wide, and side panels provide great insulation and security. For added security, they allow you to completely close and lock your window with the feeder in place. In window feeders make great gifts for seniors who love to watch birds…or for any birding enthusiast, a terrific one-time investment that will bring years or use and enjoyment.