Blue Bird Houses with Vacancies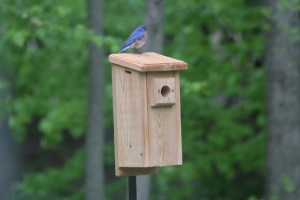 As the days become longer, a birds' instinct to nest becomes stronger. Regardless of temperature you know it's a sure sign of spring when birds are scurrying and flitting about with twigs, straw or grasses in their beaks.
Today I was thrilled to witness such behavior by a male bluebird. I had cleaned out the old nests a few weeks ago and was afraid I'd chased away my little blue friends. Nope…they're here, happy and getting ready for babies! This little guy was working hard, carrying piece after piece of pine straw into the house. Guess he has a pretty woman to impress!
The two blue bird houses in my yard are in close proximity. Although bluebirds are very territorial – which is why they say houses should be placed 100 feet apart, this close placement (10-15 feet) helps to alleviate competition from other birds for the coveted nest box.