Bitter Morning's Breakfast Menu with Extra Goods for the Mealworm Feeder!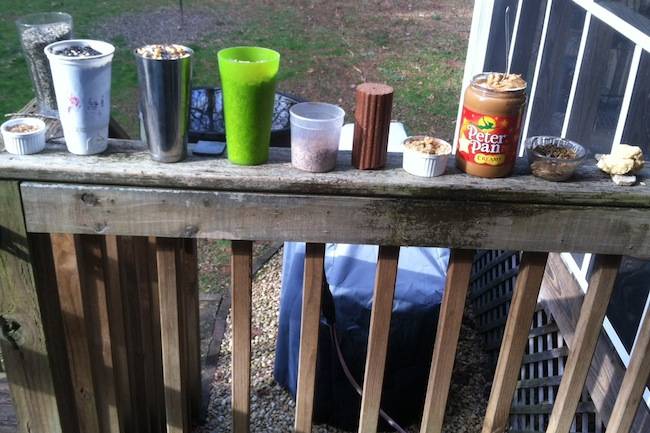 The birdie menu was heavy with special treats today as frigid temperatures almost did my own hands in while feeding! Fingers actually stinging, they had to be warmed by the vent to feel them again. You may say ha… it's Atlanta and not that bad… wanna bet?
A balmy 5 degrees right now, there's no chance of leaving the mealworm feeder filled for dawn… the poor little mealies will freeze. That's what happened last night 🙁
Actually, this is a pretty normal AM feeding, because if there's too much food out, the nasty starlings hog it all, so daily rations are fed twice instead. Plus everything's freezing right now.
Not an ad for Peter Pan either, this is absolutely the normal routine, (for the birdhouse chick anyway) just happen to snap a photo of it today.
So, what exactly does this backyard bird fanatic feed? From right to left, here goes:
Finch mix,

consisting of finely chopped sunflower and thistle.  Lots of goldfinches, just not gold right now.

Small cup of live

worms

for the new enclosed mealworn feeder… take that starlings! Carolina wrens are usually first to figure out these feeders.

Large cup of cardinal mix

for the platform feeder.

Large cup of critter mix

for the squirrels and a few other birds.

Large cup of sunflower hearts/shelled peanut

mix for platform feeder #2.

Live worms

for two hanging dish-style mealworm feeders. Meant for the bluebird pair and eastern phoebe, but many others partake.

Sweet corn squirrel log

, which is equal to about 12ears of regular corn cobs. These must be tightened up every few days as our crafty critters have managed to steal them from time to time!

Small cup of bluebird banquet

, suet-like mixture that's easy to make. Check our site (under birding resources) for this recipe and more.

Peanut butter,

slapped right on tree bark is great for squirrels and birds. High in fat and protein, these extra calories provide energy needed to stay warm.

Re-hydrated meal worms

for yet another dish-style feeder. Boiling water added to dry worms , steep and drain.

Bark Butter and suet slice

for the woodpecker feeder.
Note the heated bath behind the food, and the cord running across the yard for heated bath #2 of five. Too many feeders to show pics, let's just say there's a good mix!
Seriously… who would make up this stuff? We spend a lot of time fussing over our birds – but it's so worth having them around. It was so cold today that the squirrels didn't even venture out until late afternoon.
Say you have only one bird feeder, that's perfect too, just remember the water! Birds need a fresh water source even in the coldest weather. As far as Mr. Arctic Mass, you are not welcome in the South, so please go home now!