bird seed trays can add a new dimension in feeding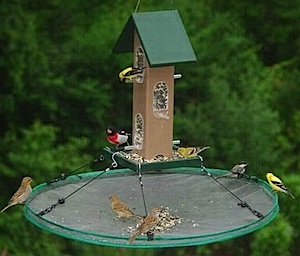 They've come a long way since the standard, puny metal or plastic tray. New designs like this Seed Hoop offer much more than a waste-free feeding area. For starters, they're adjustable and attach to almost any feeder, regardless of its size. Combined with a huge 30-inch diameter, these bird seed trays catch any and all fallen seed, and so versatile, they can even be pole mounted below a feeder. Sturdy mesh makes them a snap to clean with the hose, light-weight, easy to handle, and no tools required.
Also available in a smaller 16-inch diameter, they create a generous platform area that's like having a second bird feeder. New visitors who've never used the feeder, especially during spring migrations, are likely to stop by and grace your yard! In the last few days we've been watching a stunning pair of red breasted grosbeaks chowing down on sunflower mix. They eat fallen seed on the tray, as well as from the feeder itself.
Although grosbeaks have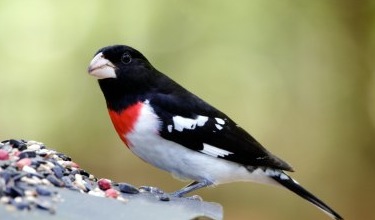 visited in past years, their appearance has always been brief. Maybe these large bird seed trays have enticed them to stick around longer this season? We sure hope so!