Bird Cams View More than Just Birds!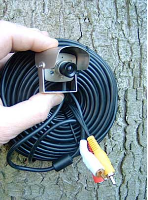 Also Serving as all-purpose nature cameras, bird cams allow you to view virtually any outdoor wildlife desired. The Hawk Eye Nature Cam shown above, will turn any backyard into an entertainment center!

You can focus on owls, or feathered friends raising their young in a birdhouse, squirrels raiding a bird feeder, or hummingbirds sipping nectar, bird cams show you real-time action in bright, living color right on your television or computer.  Simply mount the bird cam in a birdhouse, next to a feeder, or anywhere you want to watch wildlife.  View your horses, or other livestock, or pets, or…just about any outdoor activity!
This bird cam, also known as a spy cam, comes with a protective weather shield, so it can be used inside or out.  It may be placed in full sunlight, or evening's darkness with it's infrared capabilities.  A built in microphone also lets you hear bird calls and songs, wind and rain, and any other sounds of nature we so often miss.  It also comes with 100 feet of cable and all connections necessary for installation. And like most electronic devices, prices are more affordable now that the "newness" of the product has worn off.