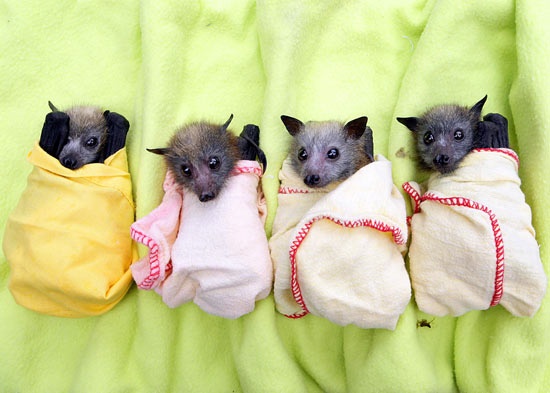 Bats could really use a new image!
Helping to demystify the furry creatures and their role in biodiversity would suit them and us well. This photo? Picked off Pinterest, but it sure is kind of cute! But do bats really roost in bat houses? You bet they do if habitat is suitable.
And just why would you want them around your property?
For insect control, bats can eat thousands of mosquitoes and flying pests each night. As a natural and effective method it's brilliant. As pollina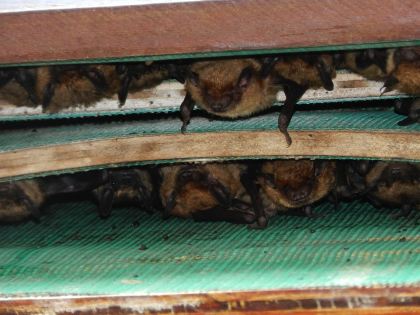 tors, they spread and cross-pollinate both annuals and perennials in the garden. As an endangered species, yes! Brown bats are facing decimation due to a virus that still has scientists baffled. White Nose Syndrome is causing controversy with Fish and Wildlife Services – as far as revenue-generating options. Opening caves to the general public as tourist attractions seems to be an ill-thought idea in lieu of the disease and decrease in bat population numbers. Is it a concern? Just ask any farmer who's had crops wiped out due to an over abundance of insects and pests 🙁
Hundreds of brown bats (or any large group) are referred to as colonies. Larger bat houses containing three or more chambers will host whole colonies. Houses or shelters do not require cleaning or nest removal like birdhouses, simply because they're used for roosting only.
Suitable habitat consists of nearby woods or heavy brush, preferably with creeks, lakes, or streams in close proximity. Height is important, as bat houses should be placed at least 15-20 feet above ground. Erected on a pole, or the side of a structure is best. The range is broad on the size and type of shelters available. From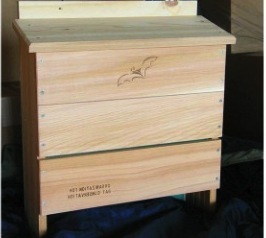 smaller kits and single-chamber houses for experimenting, to decorative and larger houses to host whole colonies, we'd say it's definitely worth a try this season!