Bat Houses for Natural Insect Control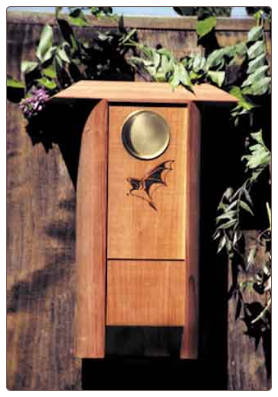 A most interesting phone call came in the other day, concerning natural insect control. While the person was explaining the yard set-up and pond, you could tell they had researched and done their homework. It was really a pleasure to hear someone first-hand, on their admirable endeavor of natural pest control.
Not only serving their own agenda, the two bat houses ordered were beauties. Shown here, it's The Colony Bat House, complete with a triple chamber that will house a whole colony of bats and their offspring. Lots of little brown bats may be calling this roost home very soon!
One birdhouse, and one purple martin house, in hopes of enticing these avid insect-eaters, were also added to their order, making the yard a very wildlife-friendly habitat. The pond is already there, serving as a water source. Mature trees and shrubs line the yard offering protection from predators and the elements. Numerous native plants adorn the area as well, providing food sources for feathered and furry friends. So, with food, water and shelter readily available, local wildlife should this yard very inviting. Can't wait to see pictures of the new bat houses too!