An Amazing Architectural Wood Birdhouse!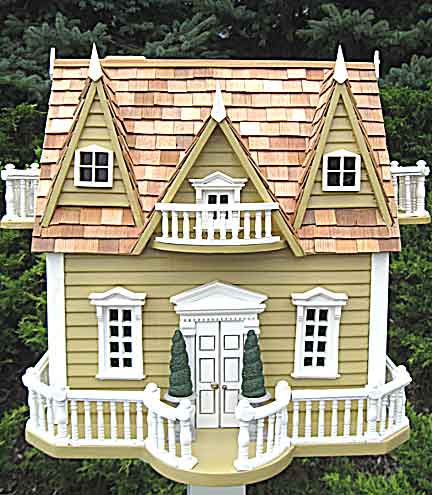 Wood Birdhouses…Functional Works of Art
Some wild bird accessories can make an excellent focal point and enhance any environment.  At the same time, they provide necessary food and shelter for birds to flourish and thrive.  Cavity dwelling birds such as wrens, titmice, nuthatches, bluebirds, chickadees, and others will use nest boxes, or a wood birdhouse.  In North America, suitable nesting sites are difficult to find, so competition is fierce…real estate is tough out there!
These wood bird houses have come a long way and are anything but box-like.  With fabulous designs that would make humans envious to live in, the architectural details are amazing.  Cedar shake shingled roofs, heavy window trim, and gorgeous balusters to name just a few.  Paints and finishes are always non-toxic, and the houses are made to weather and last for years of use and enjoyment.  Provide proper nest sites and add amazing curb appeal to your home with architectural birdhouses meant for your feathered friends!