ants in the window hummingbird feeder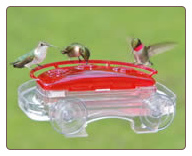 Last season a customer purchased this window hummingbird feeder in hopes of not only attracting the tiny jewels, but bringing them closer to home for better viewing. She seemed happy with her purchase, until I received a note saying there were ants swimming in the nectar!
Now this is perfectly understandable, ants being a constant battle with nectar feeders, but…. this window hummingbird feeder has a built-in ant moat.
So I proceeded to ask: "Is the moat filled with water" and she said "yes". "Has the moat always been filled with water?" I asked, rather puzzled. After explaining that ants can't swim, if the moat were consistently filled with water, this would be impossible. Ants just can not cross a body of water. So, my belief is that the water must have evaporated from the moat – it's really the only logical explanation.
By the way, this is a great little window hummingbird feeder because it allows for full view of birds. It can also be used as a seed feeder during colder months, attracting more feathered friends for close-up viewing!