Add a Birdbath for Wildlife Friendly Habitat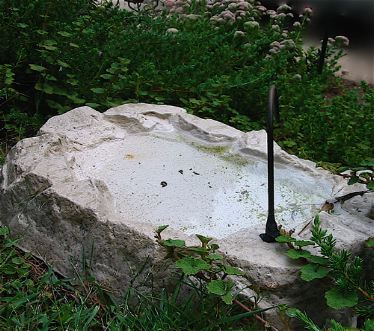 Our North Georgia yard is always fluttering with avian activity. Probably due to the many bird feeders and birdhouses, but positively because of the birdbaths and water features. For the last 30 days or so I think it has rained only once. Pastures and lawns are parched, and flowers that usually thrive well into fall have seen better days.
Two pedestal baths each have their own gizmo so there's always moving water. One has a dripper, the other a water wiggler. Since this water always moves, it is a major attractor for birds, it works like a visual magnet! It's also good to know that mosquitoes can not lay their eggs in these birdbaths.
This ground birdbath with an attached dripper has got to be by far the most popular spot. Of course everyone took off when I went to take the picture. There's also a leaf mister staked in the ground nearby, which shares the same water connection via a T-connector in the rubber tubing. Butterflies, hummingbirds and most of the regulars frequent this spot daily. Some birds even crowd around to wait their turn for a dip in this great birdbath!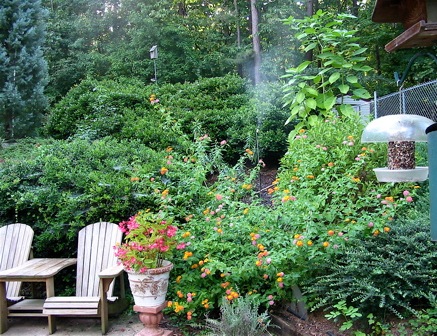 The landscaping helps too, lush and mature trees, shrubs and flowers, with perennials for butterflies like lantana, milkweed, and butterfly bush. A shepherd's hook with three bird feeders is also close to this water feature. I guess if I were a bird, it would be a pretty decent spot to hang around!