A Hopper Bird Feeder Holds More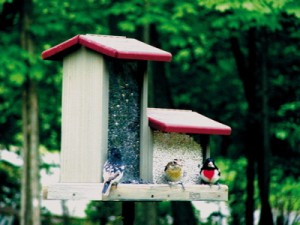 If you're tired of filling your bird feeders a little too often, it might be time to check out a large capacity hopper bird feeder.  These bird feeders are available in a multitude of designs, materials and colors!  They tend to hold more seed than other styles and accommodate more species of wild birds for your viewing pleasure.
The feeder pictured above is a double hopper-with a huge seven-quart capacity.  It is also available in recycled materials that are guaranteed to never crack, split or fade, and will last a lifetime.  A good investment for your feathered friends!