A Decent Squirrel Baffle IS the Answer!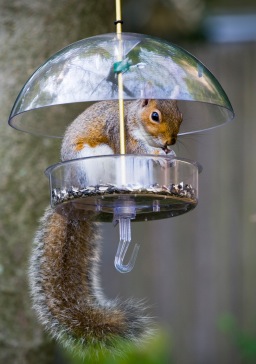 Since New Years is the time for resolutions, here's a good one to keep your sanity. Because squirrels will always be a part of feeding the birds, you can resolve to actually baffle them for good!
Whether your bird feeder hangs or happens to be post- or pole-mounted, there's a quality squirrel baffle out there that will really do the trick… we promise. It is the proper placement of said baffle that allows for full functionality and 100% performance.
In the picture at left, the feeder has a dome, and although shaped like a hanging baffle, it's fairly obvious that it is not. A weather guard and squirrel baffle are two different things. This furry one may have also jumped sideways from something to gain access as well.
When we hear folks say they've quit feeding birds because of squirrels, it's so sad because it's fairly easy to keep the critters at bay. For almost 30 years, we've been feeding birds (and squirrels) without the squirrel head ache.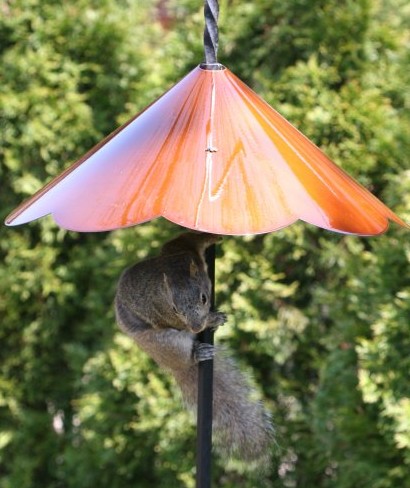 Every single feeder in our yard has a baffle, even some nest boxes too! Baffles are ideal for protecting nestlings from predators. The most important factor to consider is feeder placement. Be certain there are no horizontal launching points from where the critters can jump. These would include any structure, tree or object… at all!
Being extreme acrobats, one should never leave room for doubt when placing a new feeder. A small, one-time investment in a good baffle will result in many years of pleasurable experiences with wild bird feeding!