Wood Birdhouse Gone to the Squirrels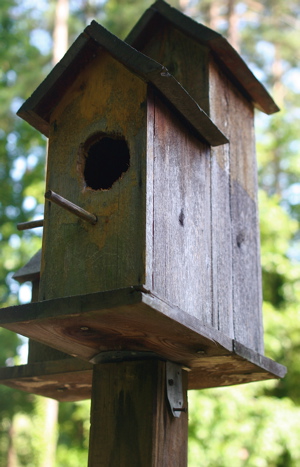 Not just this one…I've lost several a wood birdhouse to the squirrels. At first, I'd find it rather upsetting to observe the damage done by the pesky critters, but have since had a change of heart on the subject. I've always fed squirrels (never enough if you ask them) and they need a warm place at night too.
Still wanting wood birdhouses for my feathered friends, I've found a solution for the new houses. Metal portal guards will now be retro-fitted on the entrances to any wood birdhouse that goes up in my yard. The squirrels can have the old ones, but with nesting season approaching these houses are strictly for the birds!