A Bird Bath for a Landscape Focal Point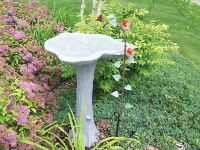 With a one-time investment in a nice pedestal bird bath, you can create a stunning focal point in your garden.  This area can be a birder's paradise with colorful annual and perennial flowers, and evergreens for year-round color.  Pavers, flagstone and potted plants can set the scene for a natural and tranquil oasis.
Water is  excellent for attracting many species of wild birds, even some that don't frequent bird feeders.  Available in a myriad of styles and colors, a bird bath is great choice if you're looking to create a landscape focal point in your yard.  Earthy forms, such as trees and leaves found in nature are used as bird bath designs.  These look wonderful in just about any landscape, and if kept filled with fresh water daily–will attract more songbirds to your yard.