Will Blacony Birds Find Your Window Bird Feeders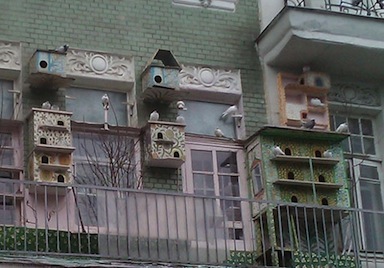 Yes, we think the answer to that question is definitely a yes!
Cruising along through one of social media's popular sites, we saw this cool image which immediately sparked the idea for a short article on window bird feeders. Along with a recent email from a friend who had just started feeding hummingbirds in her Golden, Co town (and she lives on the 4th floor) – we knew that yes, there are birds who visit balconies to find food or shelter.
Now maybe these are just some city-dwelling pigeons shown here, but the bird homes sure are neat looking. The trick might be to first offer something substantial that birds will see. Maybe something hanging near the ledge, like a birdbath with fresh water, or a suet feeder… something that won't leave any mess below for neighbors 🙂 They'll appreciate that too! Keeping a simple saucer of fresh water available at all times may even lure birds to your balcony.
Once birds are familiar with an offering, place a feeder on the window, or glass sliding door. Obviously, it would do best on the stationary door that doesn't open. Like that famous saying… "if you build it-they will come".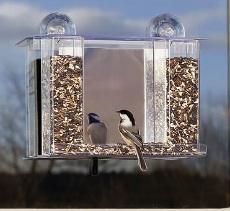 Window feeders are available in all shapes, sizes and varieties too; for nectar, seed, suet, mealworms, fruit and nuts, the secret is letting birds know you've got the goods! And the best news with feeders placed on balconies… no squirrels like the typical backyard. Even if you reside say on the seventh floor, there's no reason you can't enjoy the wonderful antics of feathered friends!