What Constitutes Exceptional Service?

In 2008 they said "you should give something away when starting out". So, hand written notes and killer freebies for the birds were included with first few hundred orders… and the next few hundred, and yes, even the next few thousand! Today as standard practice, we still do this whenever possible – because we enjoy doing so. Free gift wrap when possible… you bet! Do these things constitute exceptional service? Of course not!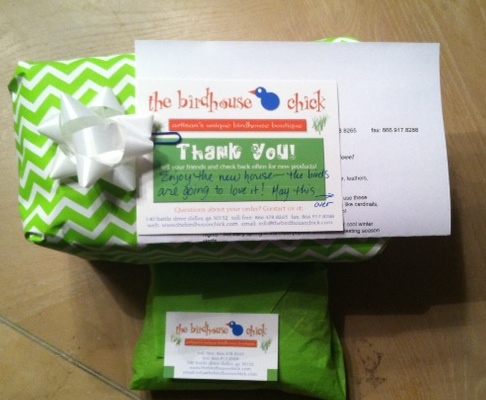 Last month houzz awarded thebirdhousechick.com "best of" for exceptional service. Totally unexpected and awesome at the same time, it's rewarding being recognized. Unlike most large companies, this boutique still goes above and beyond on a daily basis. It's not rocket science, we simply want to see you again… and again! As companies grow, systems become automated, eyeballs are lost, and nothing is personal. You and your order become a number. And that's perfectly acceptable in today's marketplace, just a model we've never had much interest in adopting. It's the difference between a boutique and volume-selling. Thank-you's and gifts FROM our customers have appeared, and phone calls with ecstatic voices on the other end too. So, it's not always about the money, but a passion for the craft of proprietorship!
Whether giant or tiny, companies can choose stand-up ethics when dealing with customers or plain cheese! The past week seems to have run the gamut in dealing with a few owners/businesses that deserve huge cheers or jeers… here goes!
Whirlpool/KitchenAide: JEERS
If you tell me a part costs $16, that's fine, even when you tell me no that's a mistake-the part is $19… that's okay too. Proceeding to inform me the part is "subbbed-out" and costs $46 is not cool at all. In fact it's maddening, that's why I hung up. If we ran our business that way, we wouldn't have a business. I'll be sure the next appliances are LG!
Pinebush Home & Garden: CHEERS
After placing an order with one of our vendors, an item showed up on sale a few days later… at half price. I called them since we hadn't even taken delivery yet, and you know what? They honored the sale price by adding 15 more feeders to our order! They could've just easily said "sorry" but did the right thing. Thanks Pinebush… really do appreciate the way you choose to business, it's quite refreshing, and you can bet we'll remain loyal to the brand!
Zeusvision: JEERS
In fact, a big fat jeers for false advertising! After being solicited to write a blog post about their launch (in exchange for advertising), it never happened. Artwork was requested, the ad set to run in February… but never did. When questioned about status, this cheesy guy couldn't even be bothered to respond. Hey, Giovanni… you suck and so does your stupid rolling ads company! Your links have been removed by the way as well.

Speaking of links… just got to get this last one out there, then all venting is complete. Because the almighty Google considers back links an important factor in ranking websites, a popular new scam is the happening thing. Your website link gets placed in all kinds of irrelevant, crappy places, then when you ask for the link to be removed… money is required to do so. Cut me a personal break, Mr. Morin of talk-sports dot com: BIG FAT JEERS
You get lumped in with good ol' Giovanni above. Here's the reply received, and a link if want to send the guy some money 🙂
"It requires additional effort on our part to remove links. We can do
this for $50. Please pay using the following PayPal link."
https://www.paypal.com/cgi-bin/webscr?cmd=_s-xclick&hosted_button_id=VWBCEZ2TEK4CY
My big question is how does Google not see this scam happening?