unique birdbath and matching planter sets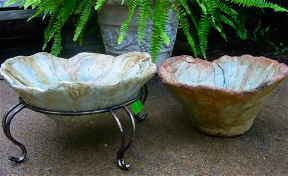 In all shapes and sizes, all colors and materials, no longer are birdbaths relegated to the mundane, heavy concrete pedestal types. Handcrafted by artists who have a passion for birds, today's baths are sure to entice some new feathered friends to your place and look great while doing so! Many have matching planters or urns, and when placed in close proximity, they create a unique focal point in any landscape, or garden, porch, deck, or patio!
Fresh water is the best way to do it, you can really attract birds with nary a feeder or birdhouse. Use a native, flowering plant in the pot and you've got a food source!
Deck baths are quite popular for those with small yards… or no yards at all. You can catch some fantastic views of unassuming birds from inside your home too. Hanging baths offer birds protection should ground predators lurk around your home (cats).
The set shown above is light-weight & durable, and hand crafted from 60% recycled materials. The organic shape and textured design are cool enough to display them inside as decorative accent pieces… but the birds really won't appreciate that at all!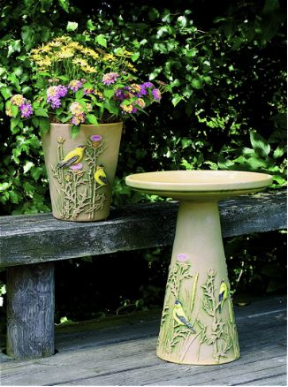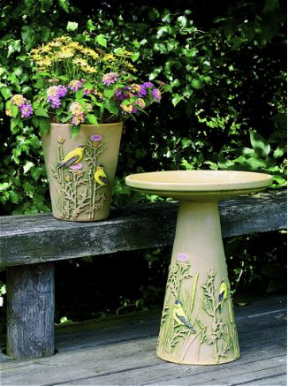 Hand painted birdbaths serve as functional art for the garden, and this Goldfinch bath and planter are no exception. Crafted from fine clay, they may be a bit heavier than some of the recycled materials, or poly-stone resin baths, but nowhere near the weight of concrete.
Some folks wonder "what's the best birdbath to get?" It is by far, the one you will maintain! Fresh water is a must, and it's the only thing you have to do… keep it clean! So think about what will be easiest for you, because the birds will use and enjoy any fresh water source you provide!
Wait… no deeper than 2-3 inches, it's the optimal depth for birds to bathe and wade safely. If the bowl is deeper, just don't fill it to the top. A large rock may be placed in the center for birds to land and perch as well.