They'll Be Scouting Bluebird Houses Soon!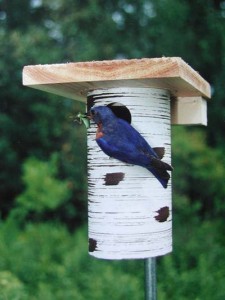 "Yesterday was very bright sun, but still cool with a heavy frost this morning. By late evening there were bluebird families sitting on high line wires & fence lines and males were singing from tree tops all along the roads where I have up bluebird houses. You see families of bluebirds right now at every people house that has up nesting boxes in their yards!"
See? That's from a bluebird expert… the scouts will be out and about very soon, busy claiming their territory and the best spring digs in hopes of attracting a mate for the cycle of life that is nesting season! It's a great time of year for all those "people houses" who host feathered friends too.
If you've never experienced a family of blues in your yard… this is the year you must try! For those who've hosted, and even monitor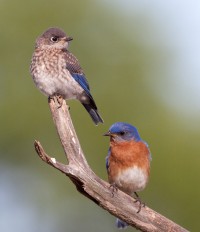 ed nests, the rewards need not be explained. Mom & Dad raise nestlings with some pretty amazing teamwork and TLC. Should bluebirds stick around for a second clutch (very common if the first fledges are successful) you'll see those juveniles help parents raise the new babies. Totally cool indeed!
Bluebird houses are best placed in an open area, mounted at about 5 feet high. The houses can be higher, but will prove difficult to monitor-which is a bummer. Folks actually help bluebirds thrive by looking out for them and monitoring their houses.
Everyone starts somewhere, so an absolute knowledge of the bird isn't required – but some basic know-how and what to watch for are best for the birds. The North American Bluebird Society (NABS) actually rates and approves birdhouses suited for blues. Should you plan to monitor this year, look for a NABS Approved Bluebird House.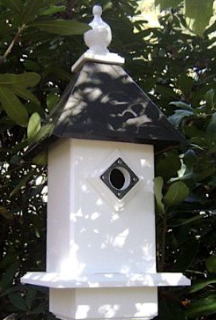 The website Sialis.org has a wealth of information in an easy to navigate format. Not just for bluebirds, but info about most North American cavity nesters. Your state may even have a bluebird society or association who'd be thrilled to help get you started with hosting bluebirds!