the super birdbath magnet!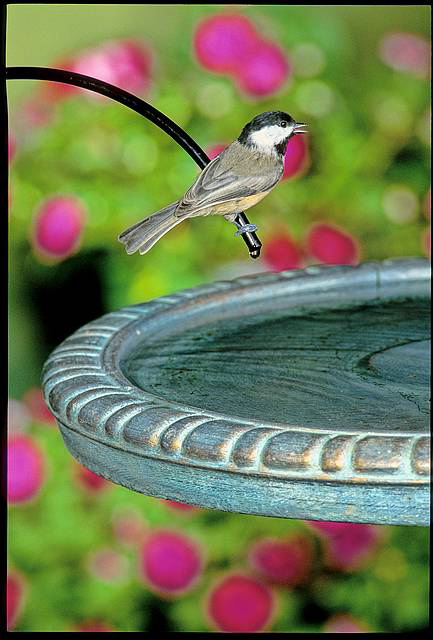 You can attract more birds to your place with less effort. No need for more feeders or birdhouses because a birdbath will really do the trick! Fresh water in a birdbath is absolutely the best way to entice more feathered friends… and moving water is even better. Ripples made by a birdbath dripper or water wiggler are a visual magnet to wild birds, especially in summer's soaring temperatures.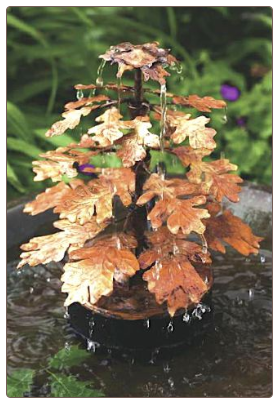 Birdbath fountains, like this copper one, also provide humans a soothing site and sound. Birdbath accessories like these are complete with simple installations-via batteries, electric, and solar models.
When placing a water feature in your birdbath that requires electricity, the cord may be hidden using river rock, or other larger stones. These also give birds a safe and excellent perching spot on which to land. Great solar features are available, as they've improved dramatically over the past few years.
This solar layered rock waterfall adds an interesting visual for both birds and their hosts alike. The soothing sounds of a small waterfall are found quite relaxing, while being greatly admired by avian amigos too! Hummingbirds adore birdbath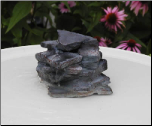 fountains and bubblers (and leaf misters too) and can be seen playing and bathing in them daily if already hanging around your yard. Another great thing about moving water in a birdbath, is that mosquitoes can not lay eggs. Water is never stagnant, so it stays fresher longer. The optimal depth for birds to bathe and wade comfortably is about two inches. If your birdbath is much deeper, simply place a large rock in the center that sits above the water level for birds to perch. Multiple rocks or large stones always create terrific perching spots that birds find very inviting. Consider adding moving water to your birdbath, then sit back and enjoy the show!