squirrel proof bird feeders with bling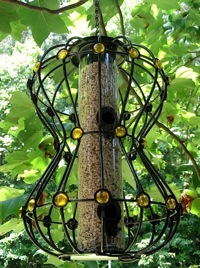 Can foiling squirrels while feeding birds actually be stylish? It's looking like an "affirmative" with the bling feeders shown here!
Yes, even caged-type squirrel proof feeders can be unique and fun, and still stop pesky critters from stealing birdseed.  These Hour Glass feeders feature translucent glass beads which catch the light… that creates the bling!
In bronze, green or pewter, the powder coat metal will endure years of use and still look great.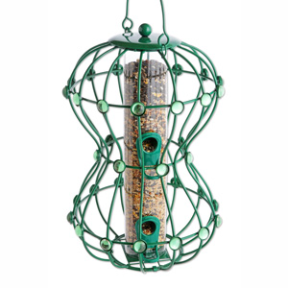 Tops are secure, and furry critter paws can't undo them. In fact it took us a couple of tries to open one for filling in the photo at left! There's also a cool globe and cylinder shape feeder with more color options.
You can save yourself seed and money – and most of all, aggravation with good quality squirrel proof bird feeders. Or you can get a couple of dogs in the yard to keep the crafty critters at bay… but they'll likely keep the birds away too!
Get this bronze beauty filled with premium seed and a hefty discount… while supplies last!