Squirrel Proof Bird Feeders for Rain, Sleet and Snow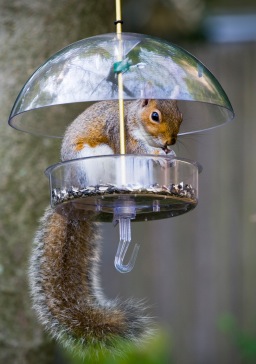 When you've finally had enough of squirrel's shenanigans, you know, chasing off songbirds, stealing all the food, and those constant acrobatics including hanging upside down from your bird feeder… it might be a good time for a one-time investment in squirrel proof bird feeders. Look at this guy acting as if he owns it!
Even if just one quality model that really works, absolutely lasts and has a lifetime warranty. For peace of mind and just to outwit the little critters once and for all, it's so worth it.
Although this feeder has a dome or weather guard, it sure isn't squirrel-proof. On the other hand, Squirrel Busters are, and they too now have an optional weather guard to keep seed dry and offer shelter while feeding.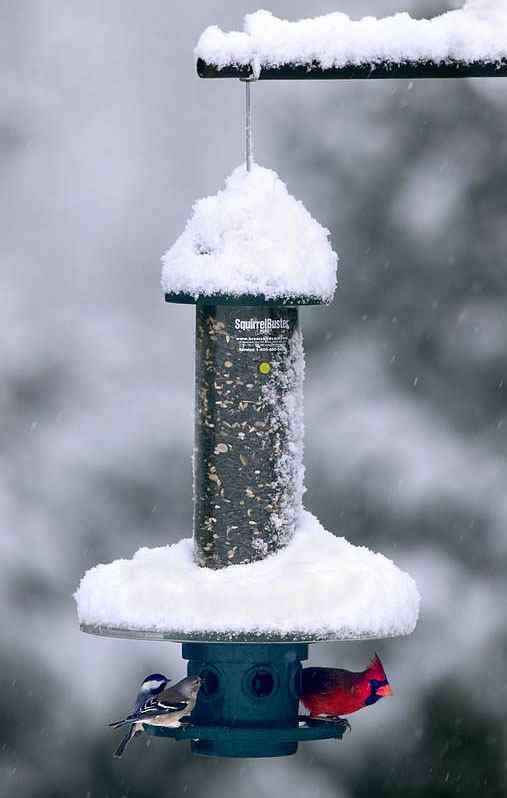 Considering the amount of snow most of the country has seen this winter (and some still seeing it) the weatherguard could actually mean the difference between a meal and starvation for some feathered friends.
Dramatic? Consider that overnight lows with sub-zero temperatures take a wicked amount of energy for a bird's survival mechanisms. Every calorie is accounted for, just to survive each night like that. Energy's depleted by first daylight, so when the search for food begins, accessible feeders can be the difference between life or death. Not so dramatic in warmer weather 🙂
So how do these squirrel proof bird feeders work? First, there's no batteries or power source to mess with, that's convenient. An adjustable weight mechanism closes off seed access to squirrels, and bigger bully-birds too. Some other cage-type feeders may operate on this same principle, but they're not as well made and don't carry that lifetime warranty either. Like the Postal Service motto: Through rain, sleet and snow… your birds can eat!
Check out the video below, the squirrel action doesn't start until about midway through, but there's some cool close-up filming of cardinals, woodpeckers, goldfinches, titmice and other friendly fliers visiting for a bite to eat.