Shop Small Saturday for Holiday Wood Birdhouses that Bring Smiles
It's a great day for deals across the net, free stuff with orders galore!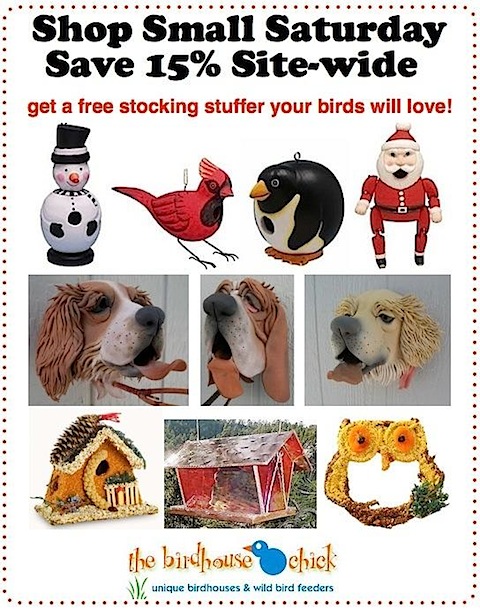 The trick is finding that special something for the one who has everything. If they happen to be tree huggers, or even the least bit into wild birds… look no further! Holiday wooden birdhouses are guaranteed to bring big smiles, and for the birds too. Even though we're not anywhere near nesting season, these fun bird homes make awesome roosting spots on cold nights. They're gifts that last and actually get utilized. Edible birdhouses are another fantastic idea too, you get the feeder plus a real birdhouse once the seed's consumed. They're festive, colorful, and oh so fun!
Say you're looking for something really off-the wall? Man's best friend immortalized as a fine birdhouse is sure to be the biggest hit ever! Totally handcrafted and made to order, we'll even customize these canine bird houses from your photo…
no extra charge.
Add in free shipping, plus a stocking stuffer the birds will love, and oh yeah… 15% off, and that's a sweet deal! Shopping small definitely has its benefits!
Use code bb15 now through Monday, Dec 2 to take advantage of this sweet deal for the holidays!