reclaimed wood birdhouses for an heirloom touch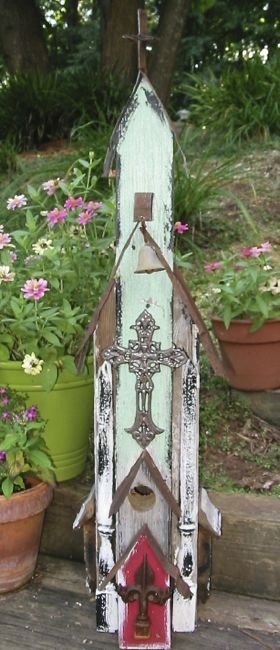 In an abandoned parking lot he was spotted selling his wares out of the back of a truck. Due to the sheer height of some his wood birdhouses, it was kinda hard to miss, and pretty obvious something cool was happening. So my friend calls and says "ya gotta come see!" – but I didn't. It took a few weeks… no months before I actually met up with Karl.
Definitely worth the trip down to Marietta Square to see what was cooking with this artist. Birdhouses all over his place; parts, pieces, iron, wood, metal, you name it and Karl was using it to build his houses. His dog Hoover (who guards all the wares left outdoors) was pretty neat too! Always fascinating to see into the mind's eye of a creative type, probably because of my own art background.
Working construction part time, the guy comes across some great salvage stuff. Currently clearing a lot that once hosted a real plantation home, he hit pay dirt… the oak boards were almost one hundred years old-and they looked perfect too. At his place, old hardware from doors and other iron parts sat in a big pile, waiting to be reclaimed for a second life.
Wanting to purchase about six wood birdhouses was problematic. – a difficult decision as no two pieces were the same! So I went by their height and closest matching styles. There's something to be said for using reclaimed materials. In the garden, these vintage style bird homes create a bit of an heirloom atmosphere. Their rustic style is timeless, and oh yeah… these homes are definitely bird-approved too!
Hinged back doors for easy nest removal even have a lock to keep birds safe from predator's paws. The 1.5-inch entrance is perfect for Eastern bluebirds, downy woodpeckers, Carolina wrens and other small to medium sized songbirds. The house is tall (at 38 inches) but a wire nesting shelf sits a few inches above the floor. This helps reduce blowfly and other pest infestation, greatly increasing the chances for successful broods and healthy fledgelings. The ringing bell is functional too… Karl might just need to start signing his work!