Newest Bat Houses are Vinyl/PVC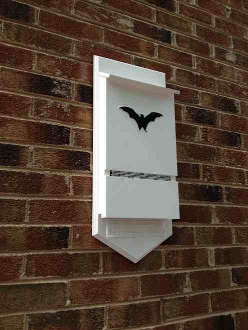 Smart innovations (made in the USA) using durable materials means better quality, especially for items that remain outdoors. For seven years, we've had phenomenal feedback on all of our vinyl birdhouses and feeders – in fact some folks even thought they were made from wood!
With the popularity of natural insect control, and the increasing aversion to pesticides (thank goodness), bat houses have become a top preference for zapping those blood-sucking, nasty insects!
This brand new bat shelter with many a creature comfort will entice friendly brown bats and keep them roosting around your place. One tiny single bat can eat more than 1000 mosquitoes per night, now multiply that by 65, which is the approximate capacity here.
Made in the USA, the new vinyl design is completely impervious weather… will not crack, warp, split or mildew. The light color actually helps cool the box and stabilize inside temperatures during warm summer months. That's important stuff if you're a bat! It also blends well with the lighter colors of exterior paint on many homes – and that's important stuff to people, it won't stick out like a sore thumb!
Mounting height should be at least 15 ft. from the ground, on any structure, tree, or 4×4 post. Be sure entry is free and clear of any limbs or branches which might impede landing. It may take a little time for bats to discover their new digs, but if they already reside in your area, occupancy could be immediate. Having water nearby is more appealing to them; as in a creek, lake, stream or pond. Not a requirement, but more suitable habitat.
So vow to quit the bug zappers and chemicals this year, it's far better for everyone's health and the environment too. Try a bat house and entice these friendly, furry little mammals to your yard!