Monitoring blue bird houses is starting early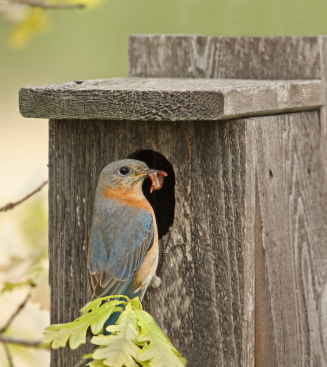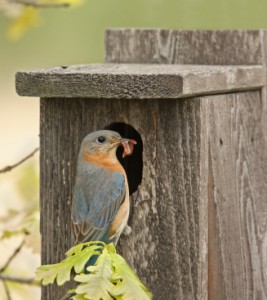 Because of the mild winter, everything "spring" is happening early. Budding trees are flowering and bulbs are blooming, this means nesting season is underway! And we've been slammed with orders, not to mention a spring newsletter… yikes! So this guest post is by my room mate, Tango Dressage, kindly helping out 🙂
Watching blue bird houses is starting early! I only know this because every day my roommate, Beth (The Birdhouse Chick)  grabs her binoculars and looks with anticipation to the blue bird houses to check for signs of nesting.  It's a yearly ritual that she has fostered by maintaining blue bird houses and feeders, and providing live worms (yes, we have worms in our refrigerator) to attract them to the yard.
It's not just the bluebirds though, most all wild birds are welcomed and catered to.  The bins on the screened porch store several different types of seeds, nuts, and treats for every avian diet.  Feeders are cleaned and filled daily (she's got it down to a science). Several houses built for the needs of different birds are  and maintained to ensure good nest sites too.  The squirrels even have their own area with corn bungees.  Fresh water is abundant, with heated baths for winter, and these cool leaf misters for hot summer days, it looks like a bird spa!
Until I moved here I knew little to nothing about birds.  After three years, Beth's passion for birds and caring for animals has given me a new perspective on her.  I thought she was crazy opening an online birdhouse boutique before I really knew her.  After seeing how passionate and knowledgeable about birds she really is, I would think she was crazy not to!
When you call you are not dealing with a clerk, every order is checked for quality, packed with care and any questions you have answered enthusiastically by someone that really cares that every product is durable and appropriate for your needs.  I guess what I'm getting to is that when you deal with thebirdhousechick.com you're not dealing with a "big company" or "entity"  You're dealing direct with the real birdhouse chick.