Is there really a Cool Tube Bird Feeder out there?

Although birds won't think so, some bird feeders are just plain boring. It's the birds themselves who make these feeders come alive and give us so much pleasure in watching.
A very popular style is the tube. Platforms are great for versatility, and hoppers tend to have larger capacities. There's bluebird, finch, oriole, and hummingbird feeders, and there's peanut, fruit, seed, and suet feeders. Omg… where would one start? One feeder that's capable of attracting several species is a great place to start. That and definitely a birdbath – even if it's just a plant saucer with fresh water!
The cool Wave Feeder shown here accommodates black oil sunflower, which attracts a wide variety of birds. If you're looking specifically for finches, it's also available for thistle seed. Handcrafted in the USA of durable cedar, it's one that will be around for many years! Although wavy is shape, it gets classified as a tube bird feeder because of the perches. Hoppers have ledges where birds perch to eat.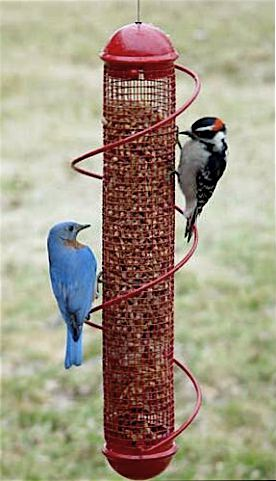 Not all tube feeders have perches though. Some offer "all-over" feeding with the body being screen or mesh. And a really innovative idea is the spiral tube feeder. Instead of perching or just clinging, birds actually "run the spiral" while dining. Now this may sound silly, until you've seen them in action! A peanut feeder is shown here, which proves tube feeders aren't just for seed. The spirals offer options for shelled peanuts, thistle (or nyjer), and of course seed.
One other thing to consider when starting out: don't go for the cheapest seed! It has fillers which end up on the ground and attract some less desirable birds. Spending the extra few dollars on a premium seed will absolutely bring better birds!