innovative birdhouse kits for young & old alike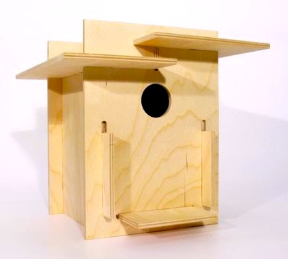 No worries if this one looks a little too mod for your taste, this company offers traditional, and even church birdhouse kits! Supporting a cottage industry right here in Athens, Georgia, Box for the Birds has created some of the most innovative and sturdy birdhouse kits to last for many seasons of successful broods, with minimalist and cool packaging too!
Fantastic projects for all ages, these kits require no nails, screws or glue, yet they're super sturdy. Safe for nestlings and little kids too, they're way fun to decorate. Box for the Birds provides a fine nest site and swell roosting spot during the "off-season" as well.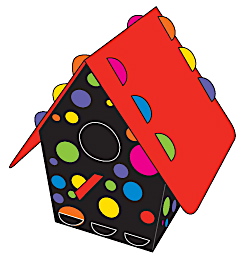 Another fresh and innovative idea are the kits created by Tweet Tweet Homes. Recycled plastic, in the most vibrant colors, these birdhouse kits also fit together sans the the tools, nails or glue. Warning: you may need to refer to their directions when assembling this fun puzzle!
Recycled plastics really do help the environment, and many items let you know just how many milk jugs or containers were used in producing that item. Tweet homes are also available in a traditional house shape, and a newer cone shape version too, delivered flat with barely any packaging waste.
Either with w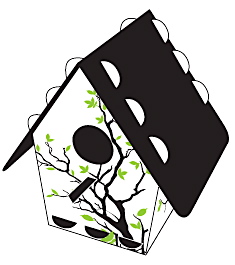 ood or plastic – half the fun is putting these kinds of bird house kits together, the other half is watching a family being raised and babies when its time to fledge the box!