Go Above and Beyond Hummingbird Feeders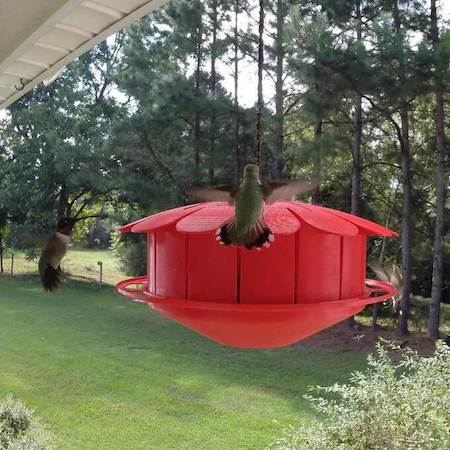 There's all sorts of cool accessories these days to further entice hummingbirds; from the highly popular Hummer Helper Nest Material, to Leaf Misters in the garden and the ever critical ant moat which keeps nectar ant-free. But hummingbirds don't survive on nectar alone, be it hummingbird feeders or nectar-producing flowers. They (as many other birds do) require insects for survival.
Their tiny but oh-so speedy metabolisms thrive on protein. Babies in the nest require protein- which nectar does not offer, plus transporting the sticky solution back to the nest is probably very difficult- if not impossible for the attentive and hard working mama!
Imagine feeding hummingbirds without messy nectar? And feeding them one of their very favorite, protein-packed foods? It's fruit flies! Yes fruit flies may be a royal pain when flying in the kitchen, but outdoors, the tiny insects are coveted for their nutritional value. Here's a whole new way to feed the tiny sprites, all natural and super healthy too.
Enter the new Humm-Bug Protein Hummingbird Feeder. An innovative feeder that incubates and offers fruit flies to hummingbirds. An all-around perch lets them rest to eat should they ever decide to sit still. Instead of changing nectar every 2-3 days in hot summer weather, just replace fruit and vegetable scraps every 3 weeks… rinse well when re-filling of course.
No more fighting over a feeder port, no drip, no mess, no mixing, no bees or wasps and no ants! We're thoroughly stoked to try out this unique humming bird feeder… check the video to see the Humm-Bug in action.