Gear Up that Window Hummingbird Feeder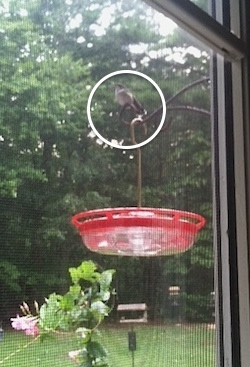 The southern trek approaches and hummingbirds instinctively know to fuel up for the long journey. As daylight hours become shorter, all migratory birds are preparing for their long flights south.
Because hummingbirds are so territorial, they seem to spend more time fussing over  (defending) their claimed feeders than actually eating. This time of year can be a trip if you really observe the tiny sprites. Adding an extra feeder is most helpful, if you can add two… even better. Consider a window hummingbird feeder, or at least placing one of them within view from inside your home. It's an ideal way to catch small glimpses of action here and there while going about your daily routine. If we could sit on the deck all day and just watch… many of us would, the sprites are that mesmerizing.
Migration is a frenzied time around feeders. In the Eastern part of the country, male Ruby Throats begin their journey first.  So aggressive around feeders, it seems their lives depend on that nectar. Females and juveniles follow, but you'll never see  them in groups or flocks because they fly solo. Even first-timers follow the instinct Mother Nature gave them to fuel up and find better digs for winter. Some land in Mexico for the season, while others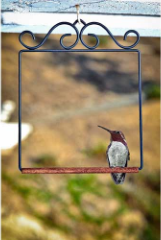 journey further to Central and South America.
Nectar solutions can be a little stronger now as some recommend changing the ratio from the standard 1:4 to 1:3. One cup table sugar to three cups of water. The extra calories serve hummingbirds well in their quest to fatten up.
It's also the optimal time for a swing! Say what? A hummingbird swing… really! Have you ever seen them? They're hanging perches for the birds to rest while guarding their feeder. When we first installed ours, it seemed so-so, not a whole lot of action. But once the big migration was under way… omg, what a hoot! It's the original, it's Pop's Hummingbird Swing and here's the real story – enjoy!