Freebie Nyjer Feeder is Still On- Shop Small thru Dec 31st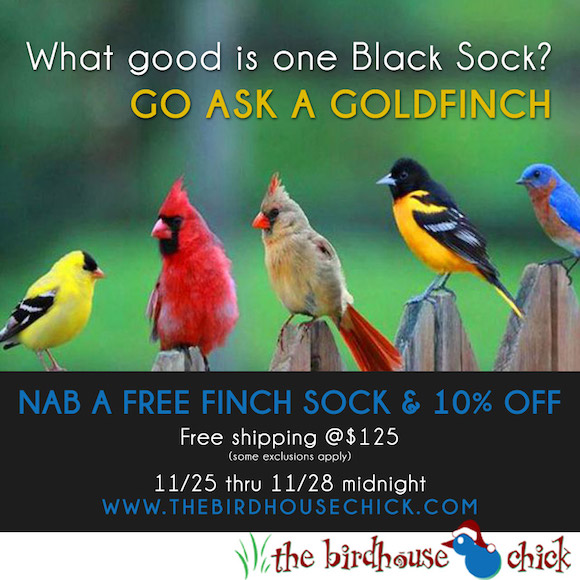 While our previous post touted the benefits of offering nyjer (or thistle) seed, this info extends the offer through Monday night, 11/28.
For Black Friday, Small Business Saturday, Cyber Monday… wait, no shopping name for Sunday? Someone dropped the ball! Enjoy 10% off and nab a free nyjer feeder sock with every purchase.
These little feeders make fantastic stocking stuffers because birds really do use them, great quality too. You may even opt to keep the gift for your own birds!
Nyjer is an ideal seed to try if you're just entering the backyard bird watching hobby. More of a journey as it becomes so darn addictive! Hard to explain, but once bitten by the bug… you're hooked.
Another petite nyjer feeder, although not free, is the one-quart feeder. It has a molded acrylic dome and tray for extra perching space. In red, orange or yellow, it will prove to be a most popular spot in the smallest of spaces!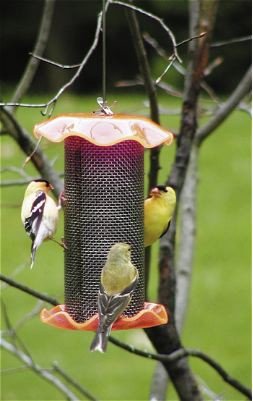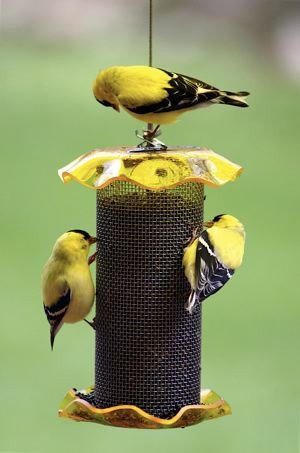 For those who enjoy the long lines, traffic and overall chaos of the holiday shopping season… hats off to you!
For those who'd rather shop from the comfort of their sofa in PJ's… (yes, please) look no further. Find the best birdhouse and bird feeder gifts when you "shop small".
Boutique shopping rocks as many items are one-of-a-kinds and unique wares. Beyond birding, find cool yard art and unusual accents for home and garden decor with fun metal yard art too. Lots of holiday theme gifts they'll use for seasons to come!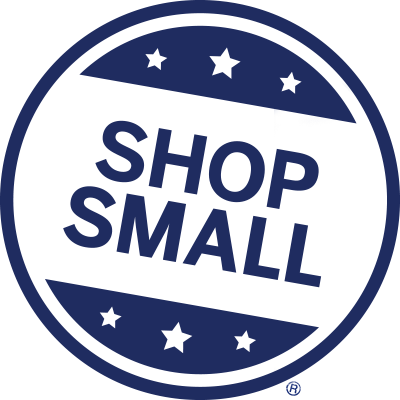 We're part of Shop Small so Am/Ex customers earn 2x points when shopping with us through Dec. 31st.
Visit the official gift guide, or check out birding resources to see daily suggestions for all 12 days. Find something for all nature buffs on your list today and nab a free nyjer sock to boot!
Use code MC10 while this offer lasts!