Easiest Squirrel Feeders Ever!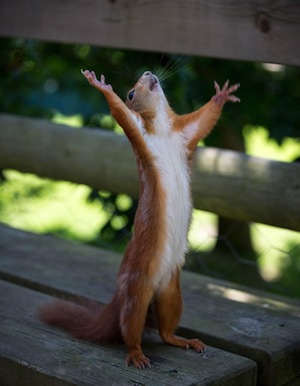 In honor of a belated Squirrel Appreciation Day, which was actually January 21st (yes the critters do have a day named for them) we wanted to show the absolute easiest feeder ever. You needn't buy anything, as this item's usually a staple in your pantry.
Peanut butter… because they love it! And with this crazy frigid weather, the high fat & protein gives them extra calories to stay warm. Calories=Energy. So what do ya do with the peanut butter? Slap it on a tree trunk! Just smear some on a tree and the entertainment is free. Why are there no squirrels in the picture then? It's been so cold overnight, we're not even seeing them venture out bed until noon!
We'll use peanut butter on other squirrel feeders during freezing weather too. Smeared on corn cobs, or long-lasting corn logs (compressed corn), it's simple to do for a special treat.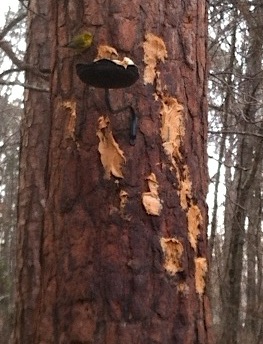 And squirrels aren't the only ones who love the gooey stuff! Woodpeckers, nuthatches and the warbler shown here seem to like peanut butter too, in freezing weather anyway. Is it safe for birds? Absolutely, because it's one of the base ingredients in many suet recipes.
The black iron thing in the picture is really a wall-mounted plant tray that was on the front porch – but our plants kept falling off – so it became a feeder. If you wanted to add some other goodies for really cheap, take a plastic plant saucer and tack it to the tree trunk. Heck, you could even offer seed, or water in this fashion! The pale yellow glob is suet, which everybody loves, and it's simple to make yourself. Some fast and easy recipes are on our site under birding resources.
But say you wanted to go all out, and offer a deluxe squirrel feeder for furry friends?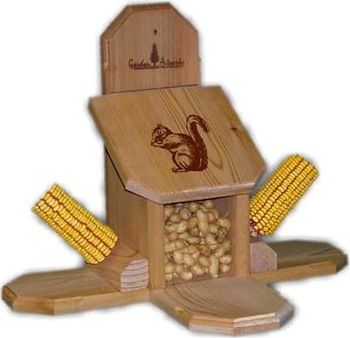 Look no further than the Munch Box Combo. It offers variety in a handcrafted, quality feeder that's made in the USA.
And why were we late with Squirrel Appreciation Day? Because it was also Penguin Awareness Day 🙂