Create a Bird Magnet in your hanging bird bath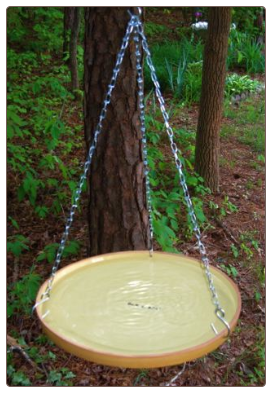 Although I've never tried this personally, it's a fantastic idea to entice more feathered friends to your hanging bird bath!
From experience of having several birdbaths containing water features, I can guarantee that moving water really does attract more birds and keeps them around longer.
We have water wigglers, drippers and leaf misters going all summer in our birdbaths, (and heaters in winter) but only one hanging bird bath which has no water feature to create moving water. I saw this idea in a birding magazine and thought it was pretty darn clever.
Take a gallon milk jug (keeps it out of the landfill) and pierce a tiny hole in the bottom corner with a needle or safety pin. The hole must be minute for this contraption to work correctly. Next, fill the jug with water and hang it above the bird bath. The slow, steady drips will create a visual magnet for birds at your bath. It's amazing to see the difference a bit of movement in the water really makes. Be sure to keep the bath and water clean, and plan on re-filling the jug about once a week.
Happy Birding!