Can you really make a hanging bird bath?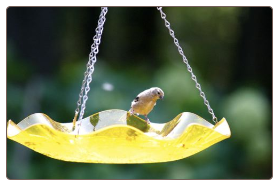 Depending on the material of the bowl or dish, then yes… you may be able to craft your own hanging bird bath. Acrylic or plastic may be easily drilled in three spots to anchor a hanger. Cable, chain link, or strong twine will make a perfect hanger. Basic S-hooks, or screw-eye hooks will come in handy for attaching the hanger too. A simple, three-point suspension is common on most hanging baths.
An old article in one of the backyard birding magazines featured a home-made hanging bird bath, utilizing a grapevine wreath. It was used as the base with a plant saucer inserted securely about half-way down. Hemp rope was tied around the grapevine and knotted on the bottom to create the hanger. It was actually a pretty cool looking bath!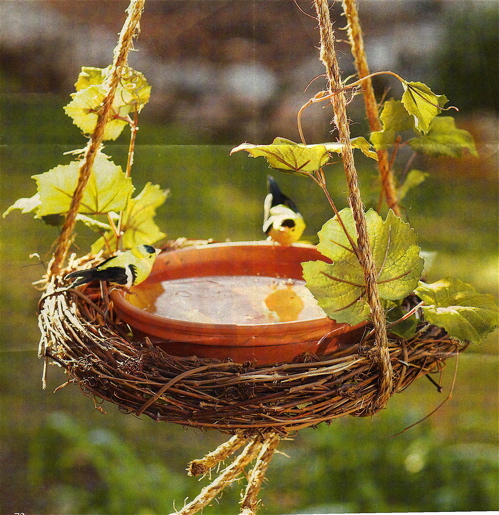 If you're lucky enough to know some basic macrame patterns, then glass or ceramics would also be an option for making your own hanging birdbath. Just be sure the bowl or dish is secure in the hanger. Fresh water in a bath really is the best way to entice more feathered friends… especially with the extreme temperatures we're experiencing this summer. This type of bird bath could also double as a platform feeder in winter months. Inexpensive and versatile… definitely worth a try!