Bring an Ordinary Hanging Bird Bath to Life with Solar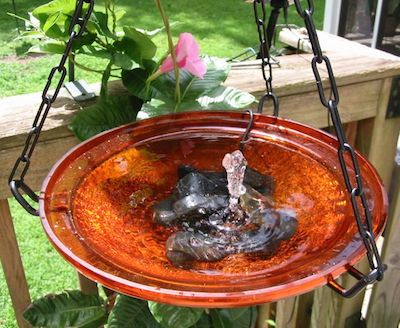 July can be a scorcher for wildlife, especially with recent droughts and above-average temperatures. Natural water sources like puddles, creeks and shallow pools all but disappear during summer heat. Adding fresh water to the garden may prove to be a life saver for birds and other animals whose habitat continues to shrink. Something as simple as a plant saucer filled with water will see winged visitors happily partaking in the essential life source.
Adding bath accessories like leaf misters, water wigglers, or this solar bubbler can bring a pedestal or hanging bird bath to life! Circulating water stays fresher longer and acts as a magnet for birds! They're totally attracted by the visual of moving water, and the soothing sounds can be a welcomed addition to human ears as well.
No need for the whole set-up either, these battery or solar powered accessories are a la carte! Some even operate from the outdoor spigot. Add them to your existing bath for a whole new dimension in birding. Hummingbirds are especially fond of birdbath fountains, while butterflies covet the gentle spray of leaf misters. Songbirds around our place actually sit and wait for the drppers to start each morning, it's looks like a bird spa!
Consider one of many "moving water" accessories this summer and see which new visitors show up at your place. Especially during spring and fall migrations, you may be quite surprised!