blue bird houses with no roof!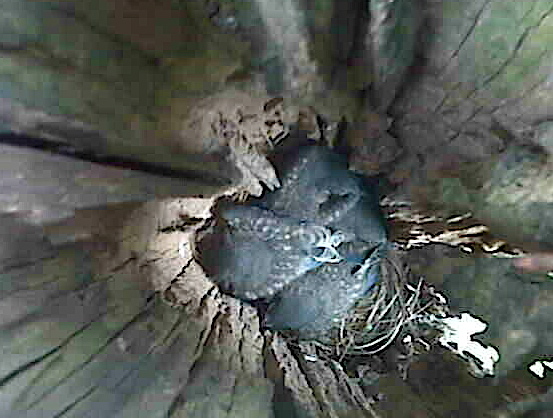 We have a gazillion birds around the farm in North Georgia, a bald eagle was even spotted last year.  A loud ruckus with crows dive-bombing it in order to block the eagles' access to their nest. Unfortunately much of the population is house sparrows, who compete (fiercely) with native songbirds for nesting cavities.
You won't find any blue bird birdhouses around the farm, or any birdhouses for that matter, but there's certainly no shortage of nest sites and activity! Between the swallows and house sparrows around the three barns, and mockingbirds' thick-stick nests in the crepe myrtles out front, that leaves about 400 acres of pure, natural habitat. Oh, and the heron, he loves to fly out of the ditch when folks are trail riding in the back. It spooks the horses every time… and he knows this (little fart!)  A person could literally get a great start their bird list right here!
With some of the old wooden fencing still intact, the posts have deteriorated over time, and these bluebird chicks seem perfectly at home in one of those posts. If you catch the angle of that photo, you can see it was taken from above… No roof! What if it rains, and what about storms? We were like nervous mothers with concern for the babies. But a moms' instinct is usually right on… four nestlings, and four successful fledges! You know, it did rain and it did storm on those babies, so I guess natural bird houses with no roof work too!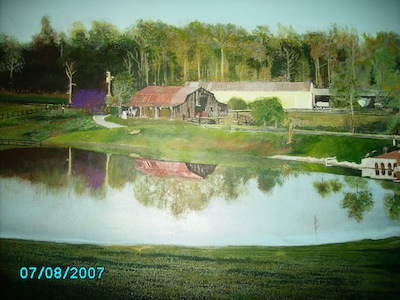 But I still wouldn't recommend it!
It really wouldn't behoove any of the birds to install nest boxes due to the sheer numbers of house sparrows on the property. There would be more fatalities than fledges as far as bluebirds, and we don't need to encourage the house sparrows! In most of suburbia there is indeed a shortage of natural nest cavities. No rotted fence posts, very few dead trees, and less of the mature (we're talking like one hundred year old) trees. Birdhouses really do help cavity-dwellers thrive and flourish. Are there some do's and don'ts? Sure, but one only learns by doing, and everyone who accommodates and enjoys backyard birds started somewhere.
I did a painting of "the back 40" a few years ago, showing the old hay barn and shop. Tons of natural nest cavities and bird activity around this place!